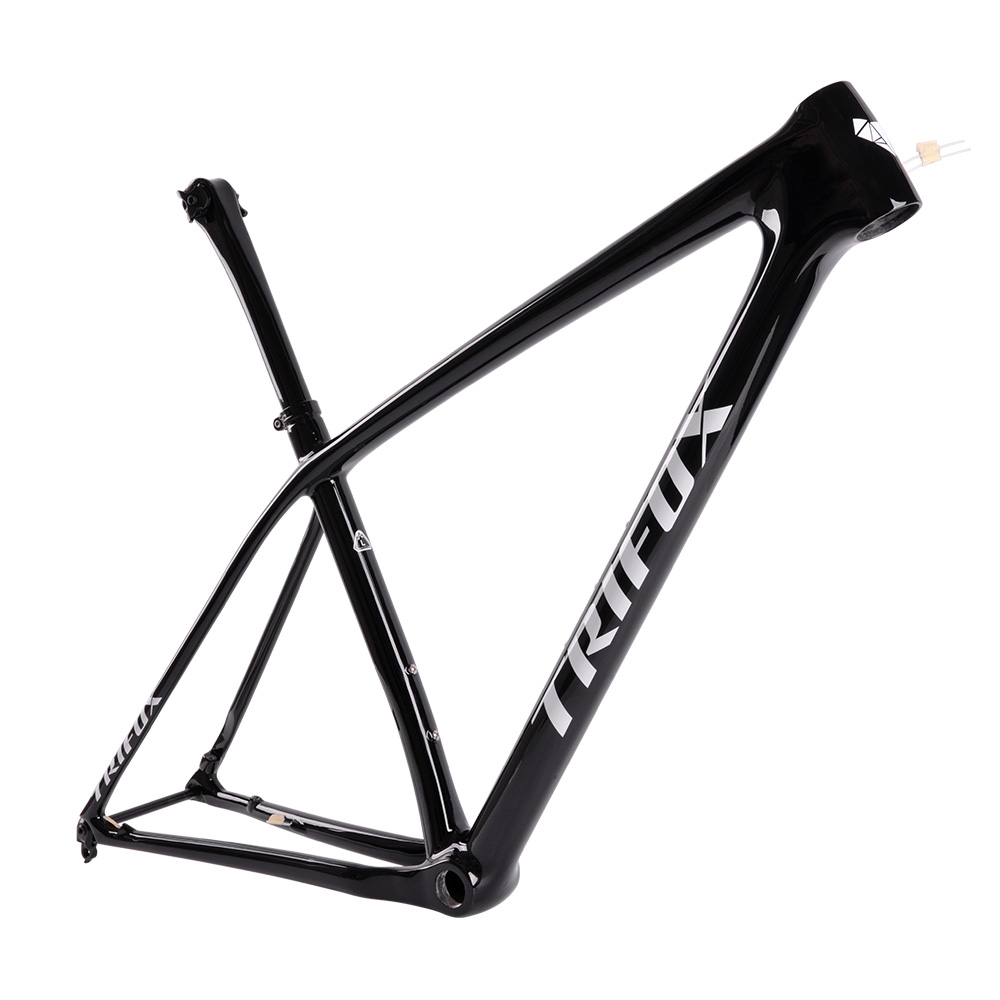 Ultra Light 29er Carbon Hardtail MTB Frame SDY20
Parameter
Brand
Trifox
Model
SDY20
Product Name
Hardtail MTB Frame SDY20
Type
MTB Frame
Style
Boost Frame
Dropout
Thru-Axle
Thread Pitch Size
1.5mm
Material
Carbon Fiber T1000
Finish
Glossy
Sizes
S / M / L
Head Tube
Tapered (1-1/8"-1-1/2")
Seatpost diameter
30.9mm
Bottom Bracket
BB68 - BSA -Threaded
Disc Brake Rotor
160mm / 180mm
Max Fork Travel
120mm
Max Tire
29"*2.4"
Crankset
Max 40T
O.L.D (BOOST)
Axle: Ø12*148mm
Cable Routing
Internal Cable Routing
Braking System
Disc Brake
Package Content
1 x Carbon MTB Frame
1 x Carbon MTB Seatpost
1 x Rear Thru Axle Skewer
1 x Rear Derailleur Hanger
1 set of headset
Seatpost insertion length
7cm to 12cm
Warranty
2 years
Product Geometry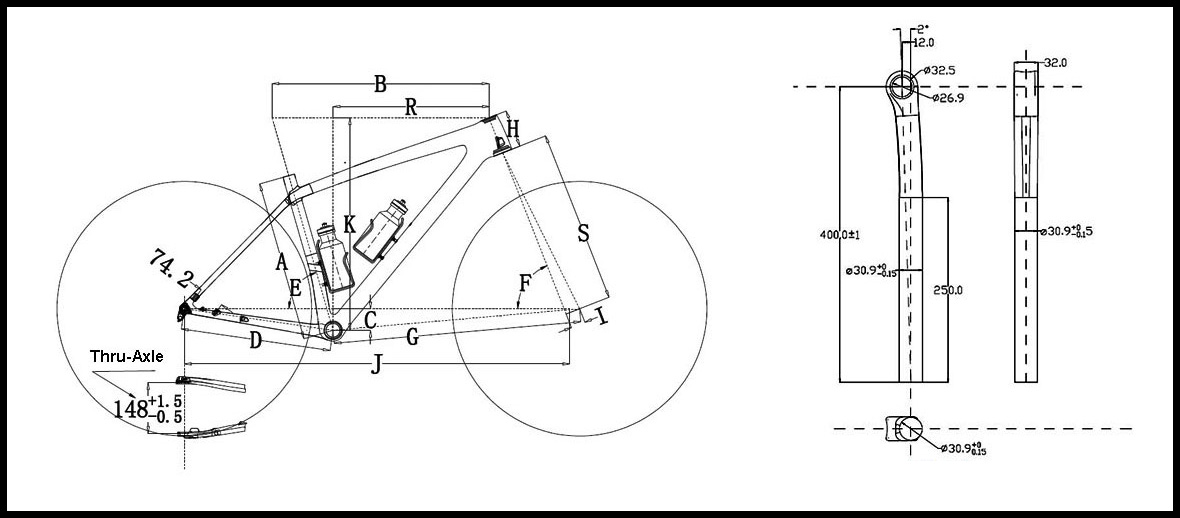 Frame Part
S
M
L
A(mm)
Seat tube length
400
430
470
B(mm)
Top tube length
579
604
633
C(mm)
BB Drop
63
63
63
D(mm)
Chainstay length
430
430
430
E(°)
Seat tube angle
74
74
74
F(°)
Head tube angle
68.5
68.5
68.5
G(mm)
Front center
668
693
723
H(mm)
Head tube length
95
95
110
I(mm)
Fork offset
42
42
42
J(mm)
Wheelbase
1090
1115
1146
K(mm)
Stack
608
608
622
R(mm)
Reach
405
430
455
S(mm)
Fork length,full
506
506
506
Internal cable routing diagram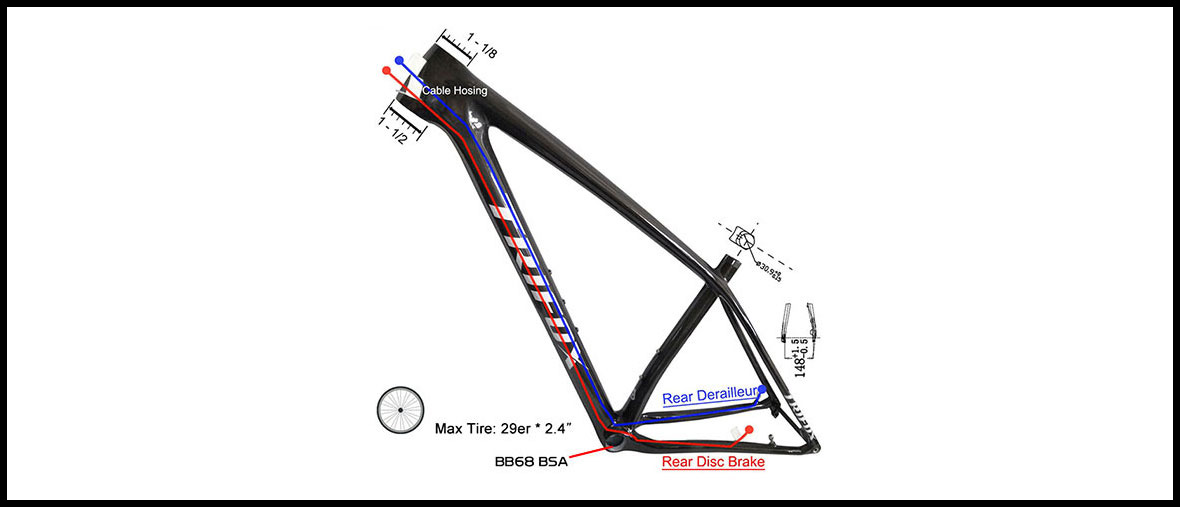 1. Real Carbon T1000 Carbon Fiber Materia, high strength and light weight

2. Ergonomic Design Mountian Bike Frameset with Seatpost;

3. Rear O.L.D: Boost Ø12*148mm, suit for max tire 29er*2"

4. Internal Cable Routing

5. BB68 BSA Bottom Bracket

6. Please note that Carbon MTB Frame SDY20 can only be equipped with single chainset with a max of 40T.
Product Weight
MTB Frame (only frame)
S
860g
M
870g
L
890g
Components
Thru-Axle Skewer - 148*12mm
42g
Seatpost Clamp - 30.9mm
14g
Seatpost- 400mm
177g
Product Details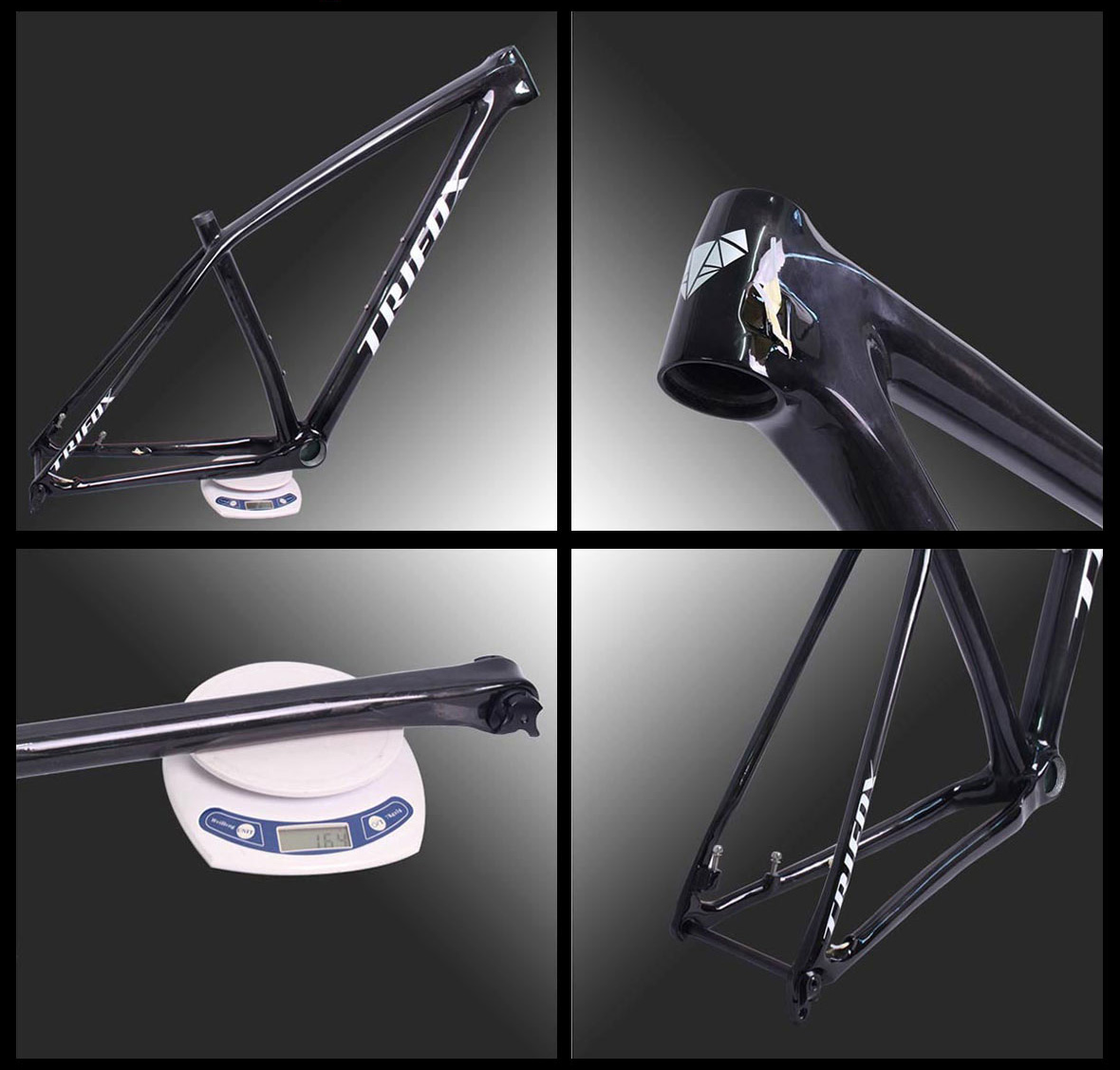 Real Shot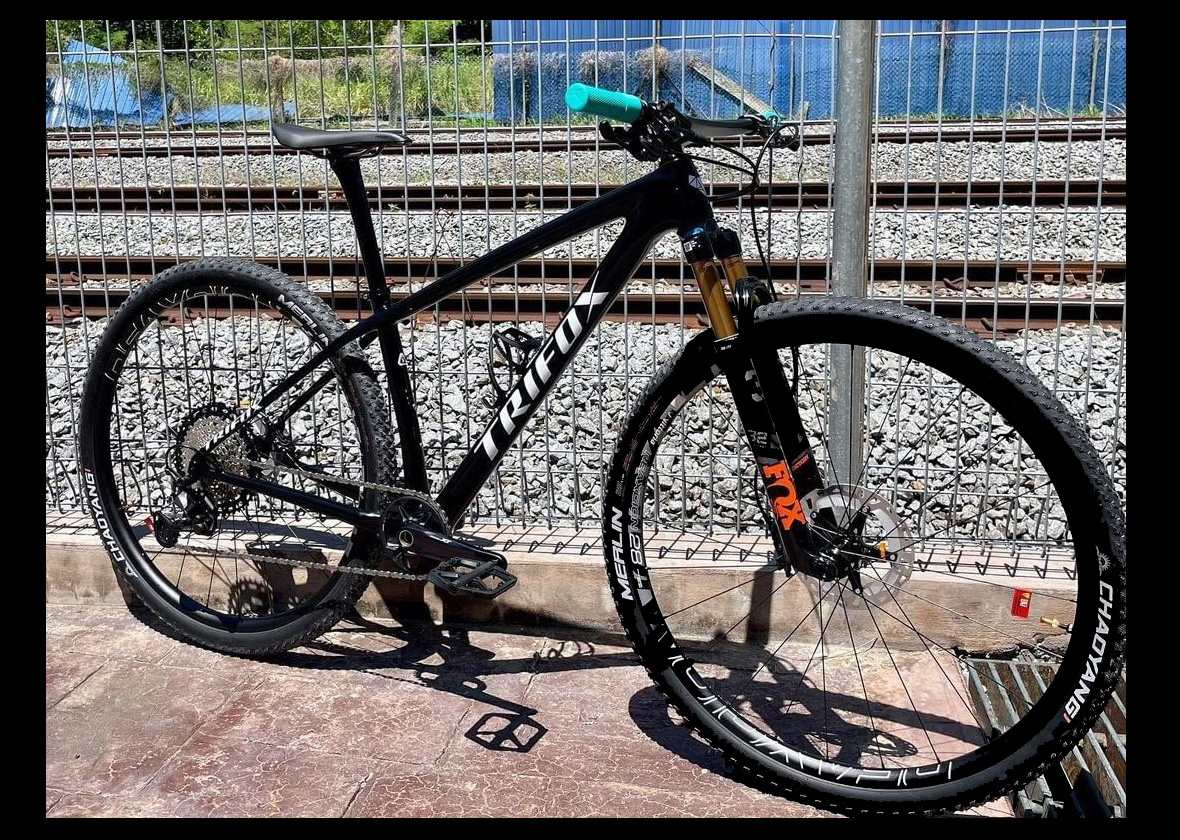 Package Content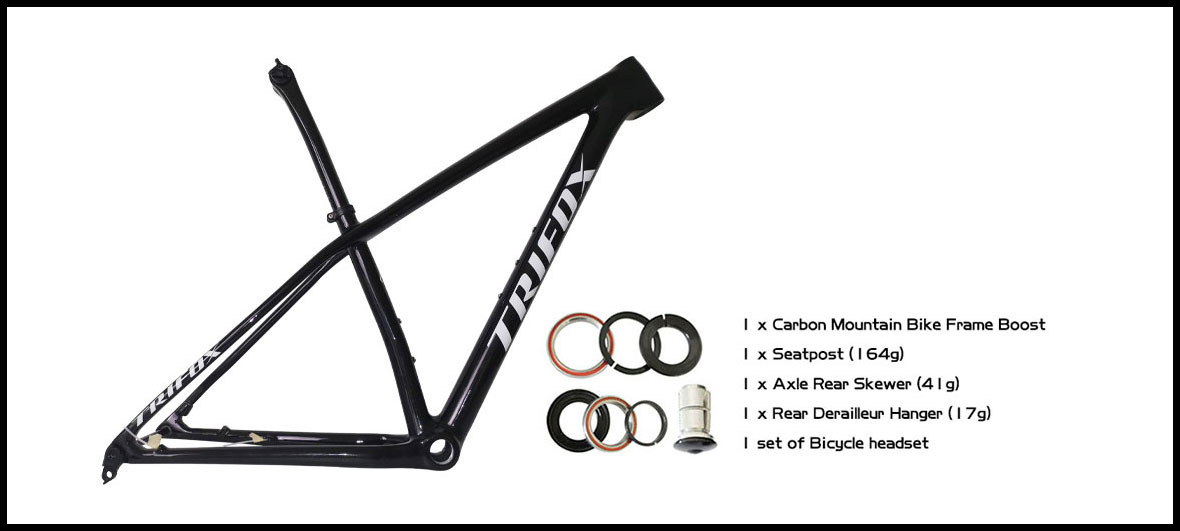 customers reviews ( 7 )
I would give it 4 1/2 stars, it is a very light weight frame and customer service was great even outstanding, though I had some issues with scratches on the paintjob. BB is 73 not 68 but this is more of an advantage and makes bike stiffer. As you can see the frame and fork look really good together and my bike weighs only 5,9Kg. I would recommend the frame and bike from the point of my experience so far. Now time has to show that the frame will last.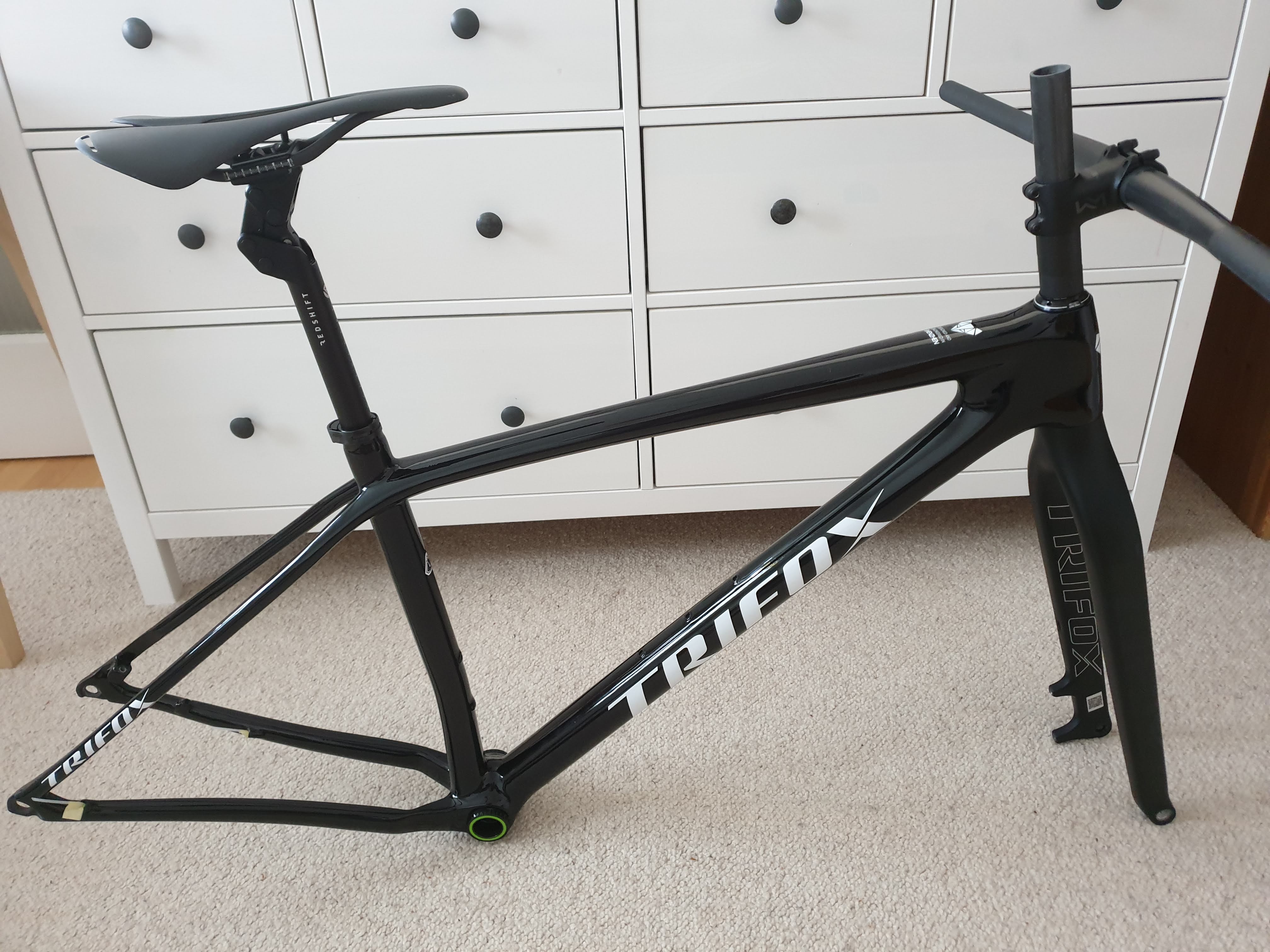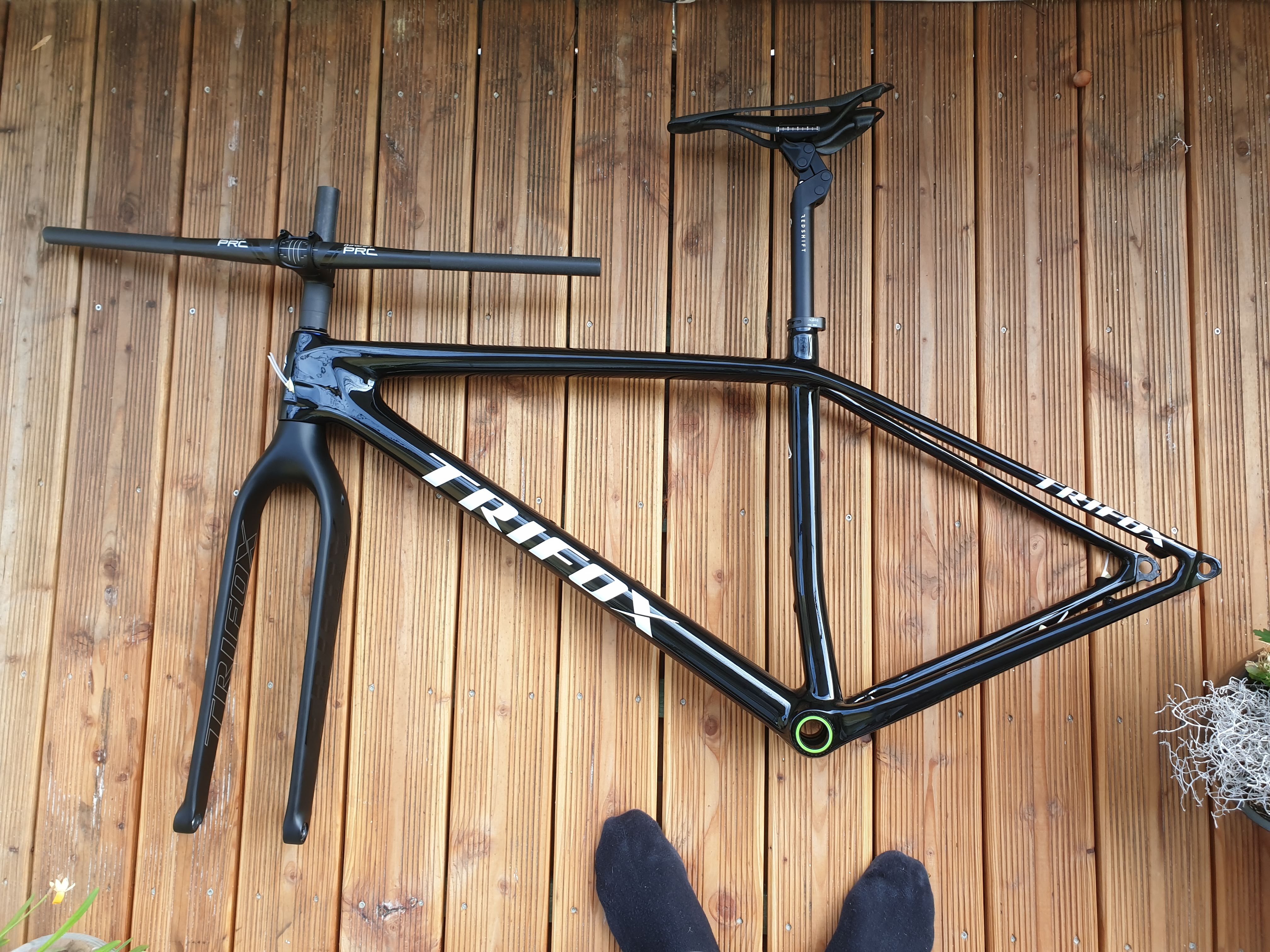 SPEEDMy frame and the rest of the parts arrived to my hands in about three weeks which is amazing considering the actual transport caos in the World.FOCUSTrifox's Customer Service has made everything to give me the best fulfilling my requirements (color matching and so on)QUALITYAll ordered parts (frame + seat post + handlebar) have arrive and in perfect conditions. No failures and no paint damage.TRUSTYes, we trust on Trifox.Note: I payed 100% by my parts and I'm not sponsored by Trifox!The last but not least, thank you very much Karry Li for your outstanding job.
My frame is large size and arrived very well packed and without damage.The initial impression was great. The frame is very well finished and looks fantastic.Inside the frame tubes, the carbon is well made and high quality.Assembling the frame, the head tube bearing fit is very good and bottom bracket is also well made. Rear brake mounts needed dressing with a file on the top faces and also benefitted chasing the threads with a tap - something I've had to do on Italian and American frames as well, so nothing unusual there.I noticed an alignment problem with the rear axle on the drive side and found the derailleur hanger thread was misaligned. A quick email (with photos) to Trifox explaining the issue I had a new replacement hanger mailed out straight away. Awesome customer service!Built up with XT brakes and gears, BikeYoke Divine SL dropper post, Reba fork, DT240 hubs and Stans rims, the bike ready to ride is under 10kg with pedals and bottle cages.I'm very happy with the way the bike rides and would recommend Trifox.
Great frame. Came very fast.
All items were well packed and arrived on time. The only difficulty in building the bike was that there was a lot of paint on the bottom bracket and I had a hard time cleaning it properly. The bike is now very well built, rides great, super light, and is a lot of fun.

The frame arrived very well packed, is very neat and very well painted.Mine in size M weighs 881 grams. Now I just have to mount it and try it out.The thread of the bottom bracket is done well, the caps are screwed very well without uncertainties.trifox is a guarantee.
Hi Trifox, I'm torn between 4 or 5 stars. The frame required two rework jobs. The contact surfaces of the brake caliper were factory machined, but one surface was milled to be completely bent. I had to rework both surfaces so that the calipers would align properly. Another issue was the bolting of the chain toggle hanger. The barrel shaft and/or rear chain toggle would not screw in/fit easily. The misalignment was quickly resolved with some filing and sanding. No major issues were considered overall. Anyone with a little manual skill and experience riding bikes should be able to set it up. So far, the new bike has covered about 500 km. the M size frame is very light. I removed everything from the frame and the weight was 833 grams. The bike is made from a Shimano XTR 9100 12 speed kit and some lightweight components and actually weighs 8.6 kg. The bike rides very well and so far I'm happy with it. I hope it stays that way. Best regards Herbert