Carbon Road Bike Frame X12
700C AERO Carbon Road Bike Frameset X12
Parameter
Brand
Trifox
Model
X12
Product Name
Bike Frameset X12
Type
Road Bike Frame
Style
AERO Frameset
Material
T800 Carbon
Fork Rake / Offset
43mm
Dropout
Quick Release
Weave
3K
Finish
Matte black with glossy color painting
Derailleur Cables Routing
Full Internal
Saddle installation method
Lock up and down
Max Wheels & Tire Size
700 x 25C
O.L.D
Front: φ9x100mm
Rear: φ10x135mm
Headtube
1-1/8" To 1-1/2" Tapered Integrated
Bottom Bracket
BSA - BB68 (φ 34mm, L 68mm)
Available sizes
XS-510/ S-534/ M-558/L-582 mm
Installable
DI2 / Mechanical derailleurs
Warranty
2 Years
Seatpost insertion length
7cm to 12cm
Package Content
1 x AERO Carbon Road Bike Frame X12
1 x AERO Fork
1 x AERO SeatPost
1 x Headset
1 x Aerostem
1 x Seatpost Clamp
The Trifox X12 is absolutely familiar to most cyclists, and its unique sinking aerodynamic shape ( Aerostem ) makes it competitive for the best rank in pneumatic road bikes. Since its birth, X12 has been endowed with innovation, fast speed, and fast response.

The new wiring mode of Trifox X12 is convenient for installation and maintenance.

Thanks to its excellent aerodynamics and unique design, Trifox X12 allows you to fly solo away from large groups or feel very active when riding on flat roads. It rewards your efforts with enough speed and can keep pace.

Thanks to the fact that X12 is a top AERO Frame, it performs extremely well on flat roads. When you accelerate away from a narrow corner or attack, it still responds quickly.

Product Geometry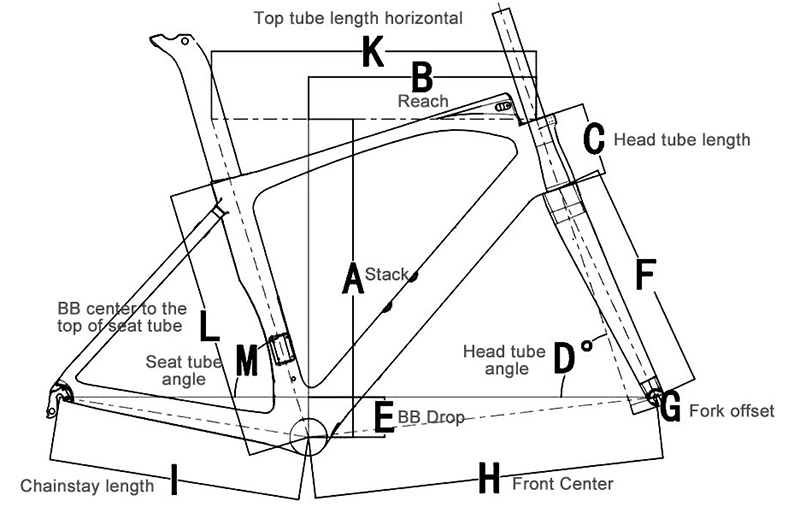 Product Geometry
Size
XS
S
M
L
A
(mm)
Stack
510
534
558
582
B
(mm)
Reach
365
375
380
384
C
(mm)
Head tube length
116.9
142.1
161.0
184.7
D
(°)
Head tuhe angle
71.8
71.8
73
73
E
(mm)
BB drop
65
65
65
65
F
(mm)
Fork length full
368
368
368
368
G
(mm)
Fork rake/offset
43
43
43
43
H
(mm)
Front Center
560.7
578.5
584.4
601.5
I
(mm)
Chainstay length
405
405
405
405
K
(mm)
Top tube length horizontal
512.9
530
555.7
572.9
L
(mm)
Seat tube lenght
434
459
475
508
M
(°)
Seat tube angle
74
74
73
73
Internal cable routing diagram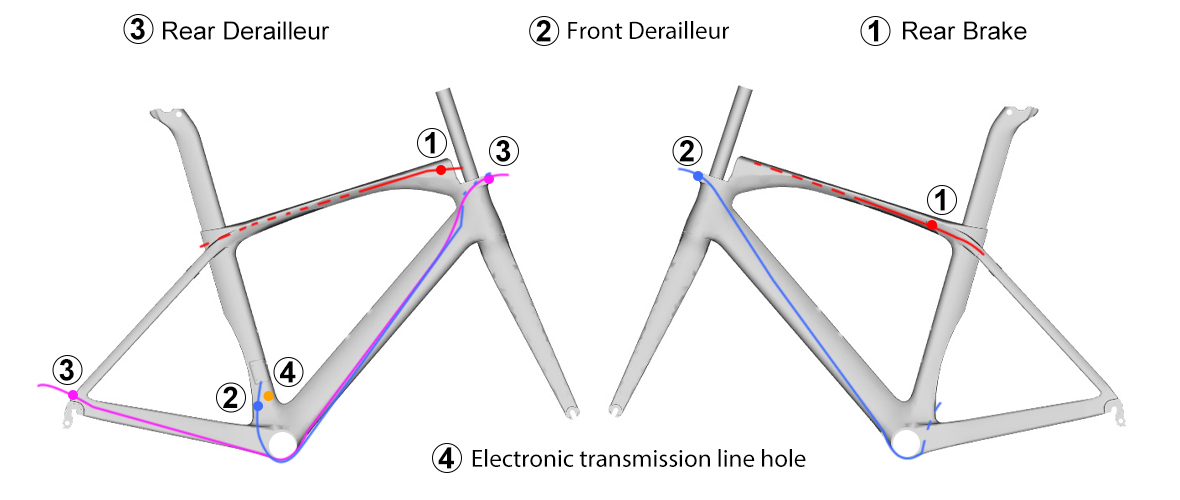 Product Details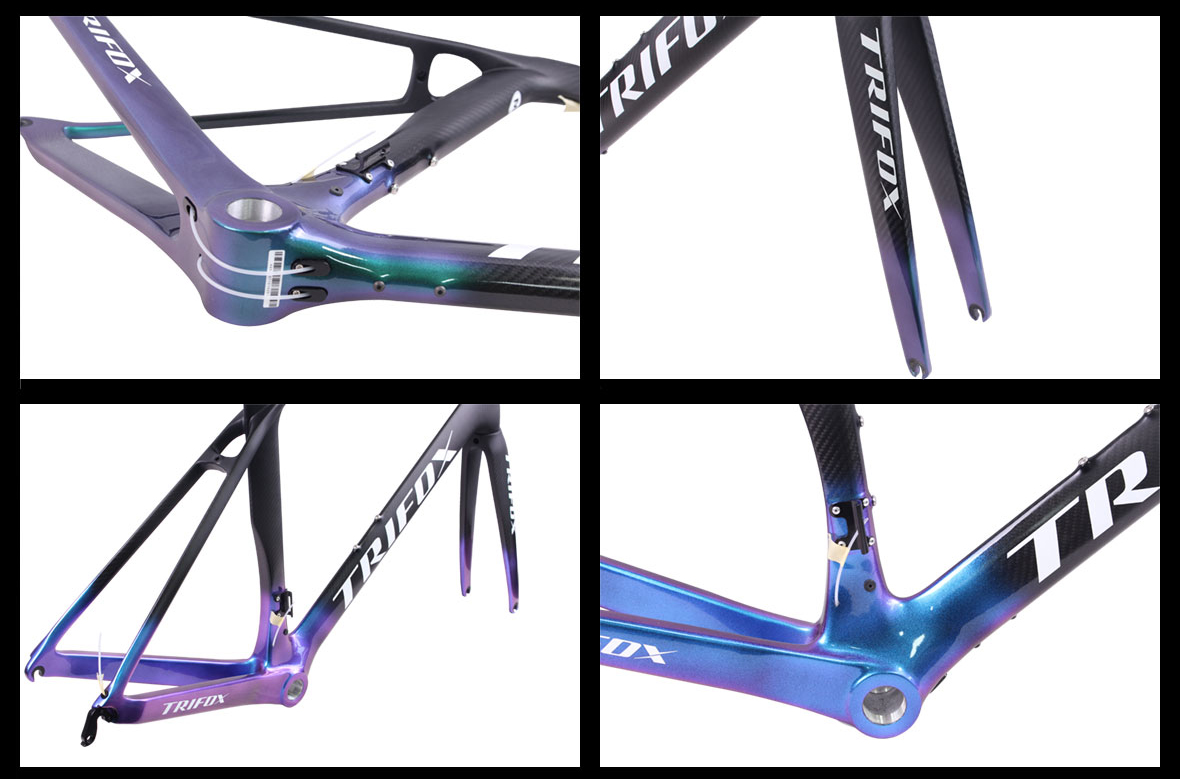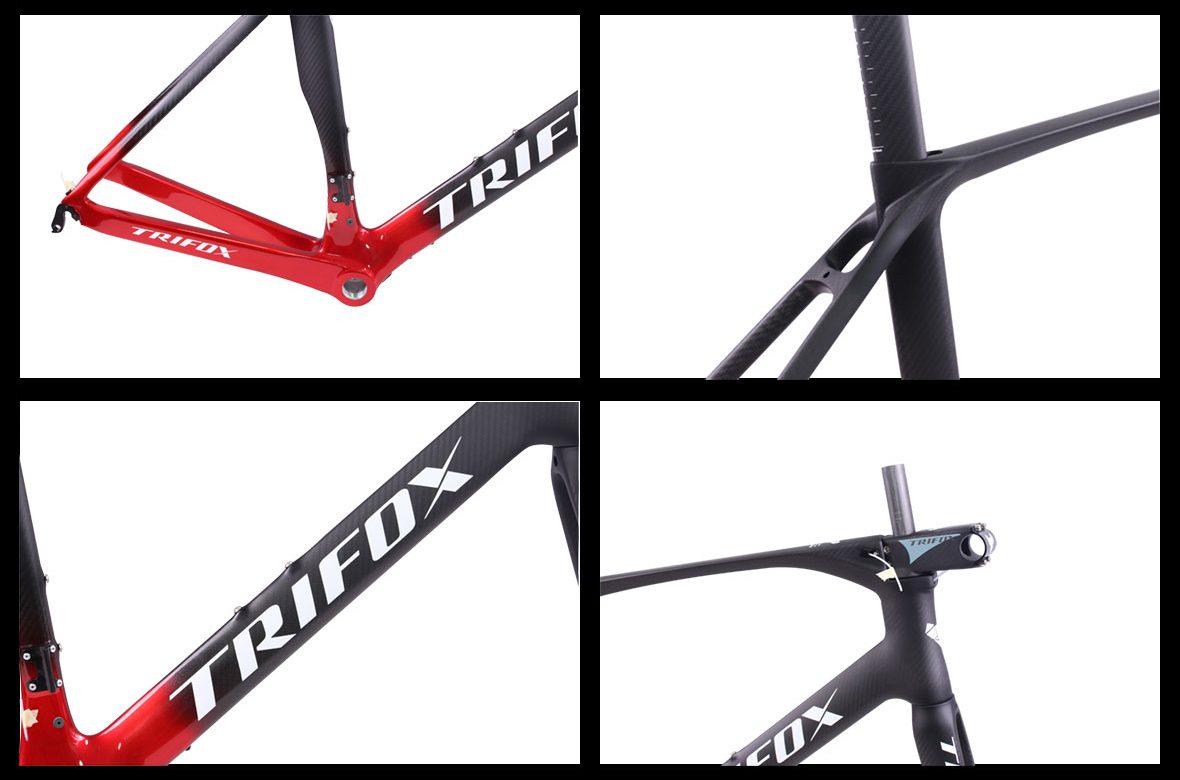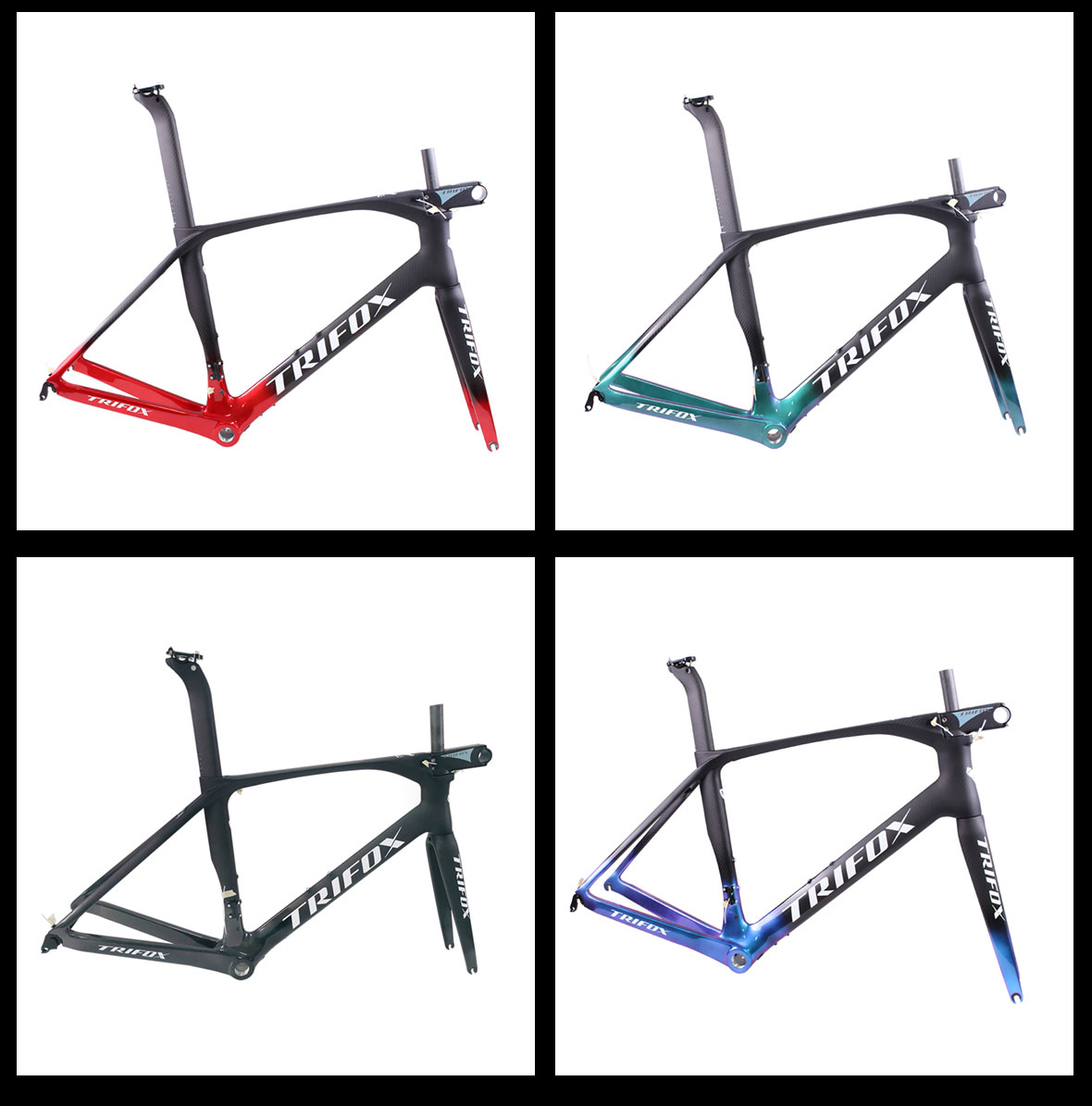 Product Weight
| | |
| --- | --- |
| Size / Components | Weight |
| XS - 510mm | 1077g ± 20g |
| S - 534mm | 1125g ± 20g |
| M - 558mm | 1192g ± 20g |
| L - 582mm | 1199g ± 20g |
| AERO Fork | 368g ± 2g |
| AERO Seatpost | 243g ± 2g |
| AERO Stem - 90mm | 195g ± 2g |
| AERO Stem - 100mm | 196g ± 2g |
| AERO Stem - 110mm | 197g ± 2g |
Real Shot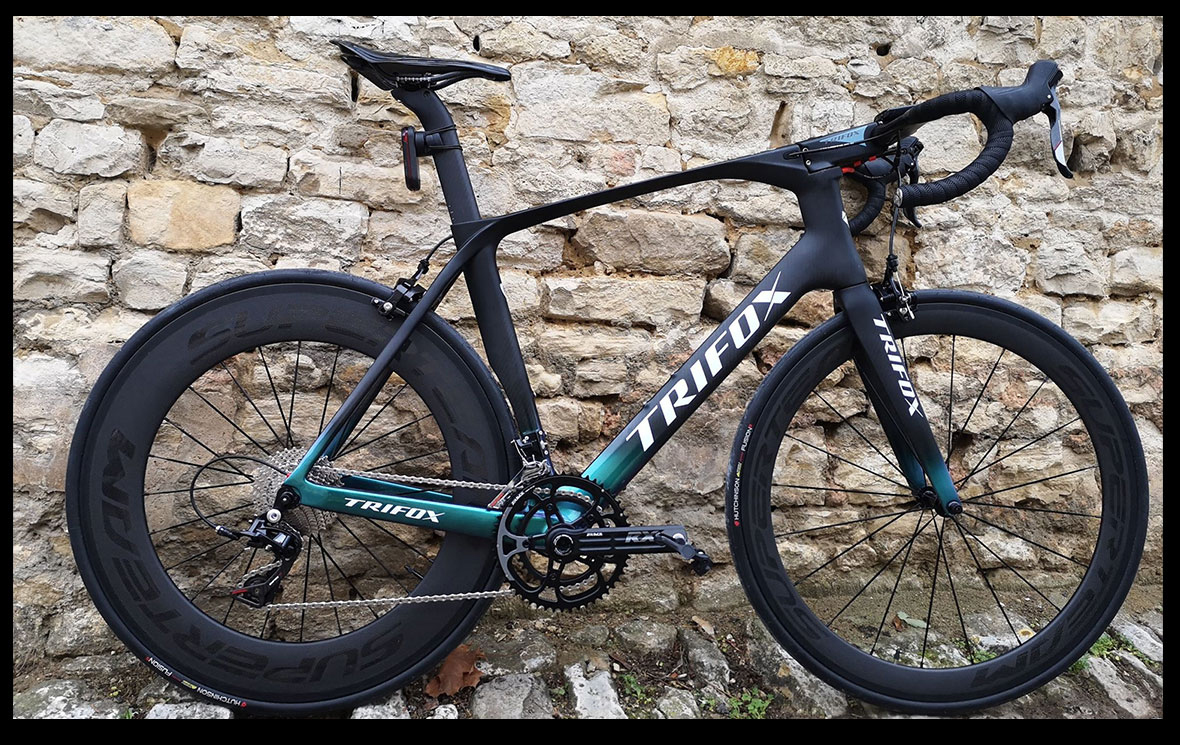 customers reviews ( 20 )
The frame is very light and reactive, only slight complaint was how the routing was confusing but the customer service was really good and helped me out.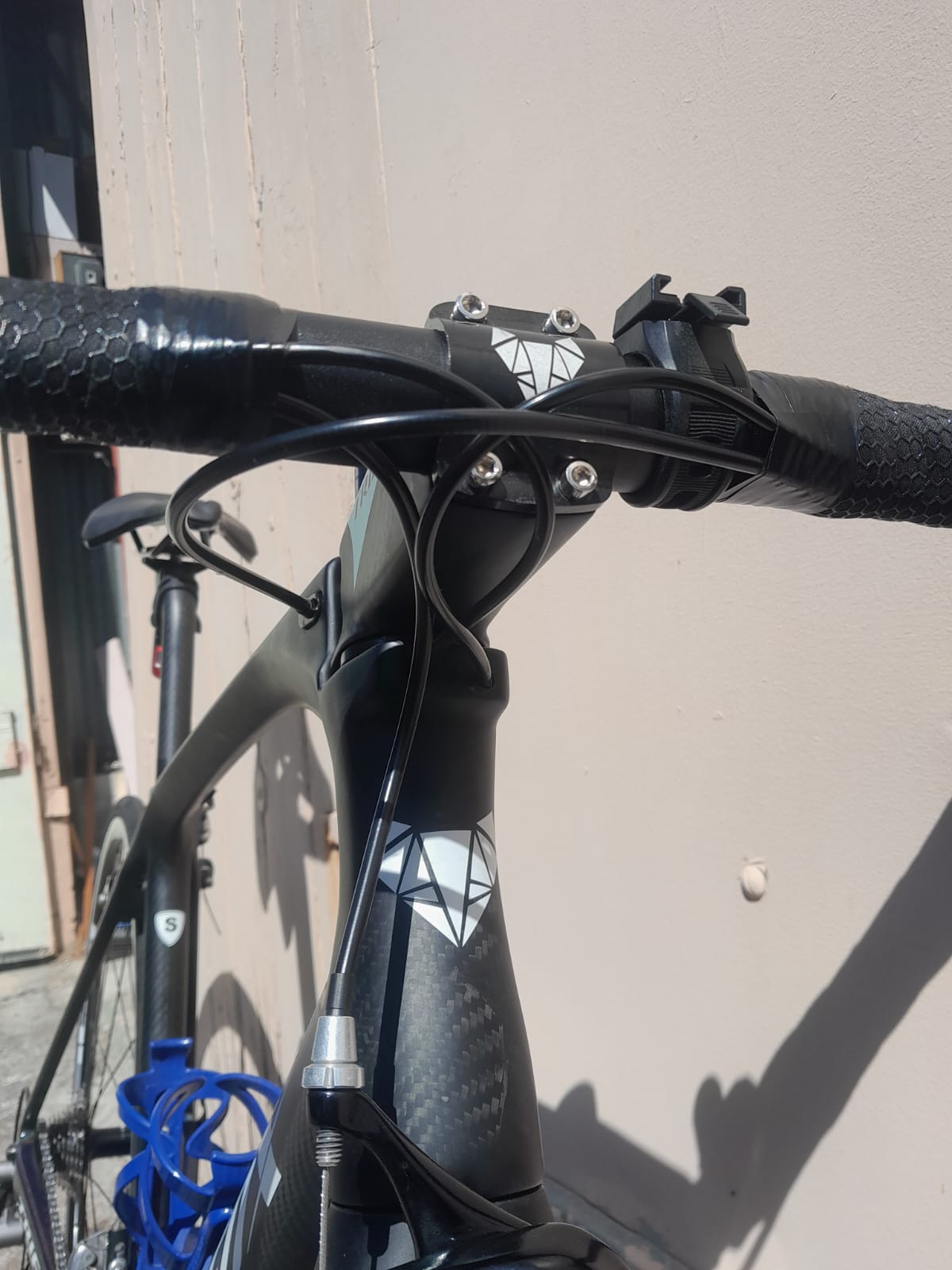 Impresionante calidad del cuadro, perfectos acabados y pintura,una maravilla. Lo mejor la atención al cliente. Gracias karry por todo.
This frame is awesome! All the parts I got for it(105 groupset) and I also decided to get the Trifox handle bars which work perfectly on the X12. Very stiff and light. These handler bars give the bike a stiff and nimble feeling. The customer service is quite awesome. One of the bold of my dear clamp was frayed because it was a bit rusty, the customer service team sent me another no charge. I can't recommend this frame enough. I called mine Foxy FSFF( Fast, stiff, flexible, fast).
awesome frame, I do a full review here https://www.youtube.com/watch?v=Ju9Y3dWvXFY
Great bike, looks amazing and was easy enough to assemble.
El embalaje perfecto, el detalle que me ha dado Trifox y agradecer la paciencia de su servicio de atención al cliente. Me falta montarla pero me ha encantado todo, gracias
Excellent frame. All the pieces arrived well wrapped in two weeks. The frame is stiff and the handlebar is so cool. I recommend this product.
Beautiful designed and produced frame BUT;1) the top cap is not finished properly with big pitted holes on them (small problem)2) the BB shell BSA thread is filled with hardened epoxy on the leading edge of the threads which means l cannot even screw in my BB at all! No help from service except to start putting blame on me, so l had to solve the problem myself (also small problem) by using acetone and a small 24 TPI tapping tool to slowly dig out the epoxy from the leading edge.3) about a week after my order, the price of the same frame dropped to USD 499 !!! (l paid USD 689 !!!), that is a whopping USD 190 difference!4) in replacing the faulty top cap, l was asked to buy something small so l asked to purchase a spare rear deraileur hanger. I have to convince service that l shouldn't be made to pay for the USD 8 shipping fees when it can be put together with the replacement cap.5) you have one of the most expensive deraileur hanger in the world at USD30 !!!!
Thanks trifoxbike! I finally get the package before Xmas. All was good, the frame is light and the color looks so cool.
I just finished my bike. It looks awesome. The painting is amazing! Thanks for the fast shipping also!