Carbon Road Bike Frame X8QR
700C AERO Carbon Road Bike Frameset X8QR
Parameter
Brand
Trifox
Model
X8
Product Name
Bike Frameset X8QR
Type
Road Bike Frame
Style
AERO Frame
Bike Frame Sizes
48 / 51 / 54 / 56 cm
Frame Painting
Yellow / Red
Material
T800 Carbon Fiber
Finish
Glossy
Braking System
V Brake
Fork Rake / Offset
43mm
Installable
Fit for DI2 & Mechanical
saddle installation method:
Lock left and right
Derailleur Cables Routing
Internal
Bottom Bracket
BSA - BB68 (φ 34mm, L 68mm)
Headset
1 1/8" to 1 1/2" Tapered Integrated
Max Wheels & Tire Size
700 x 25C
O.L.D
Front: φ9x100mm;
Rear: φ10x130mm
Dropout Style
Quick Release
Package Content
1 x Road Bike Frame X8QR
1 x Fork
1 x Seatpost
1 x Hanger
1 x Headset
Seatpost insertion length
7cm to 12cm
Warranty
2 years
Trifox X8 adopts carbon fiber integrated molding process, three-dimensional guide type integrated aero pipe type, internal routing aerodynamic propel design, full sense of strength, the combination of sports and equipment aesthetics, and the special processing method of carbon fiber makes the frame without Joint gaps, with consistent visual aesthetics that other frame materials don't have.

The internal routing design, the wiring from the upper tube of the frame head, is simple and beautiful.

The carbon fiber raw materials is derived from Toray T800 high-quality. The carbon fiber is flexible on the outside and rigid on the inside. It is lighter than aluminum alloy, but more strength than steel. It has the characteristics of corrosion resistance, shock resistance and high modulus. It is important materials and always used in national defense, military and civilian applications. It not only has the inherent characteristics of carbon materials, but also has the soft processability of textile fibers. It is a new generation of reinforcing fibers which has many excellent properties.

Ultra-light carbon fiber front fork: aerodynamic design of breaking wind, taking into account lightness and strength, riding faster and more comfortable.

Carbon fiber windbreaking aero seatpost: The lay-back drop-shaped tube design, with a smaller windward surface, effectively reduces the wind resistance of cycling, and makes riding more enjoyable.

Hidden seatpost clamp, beautiful and fashionable.

Bike frame size road have 4 choose: 48 / 51 / 54 / 56 cm, how to measure a road bike frame, you can bike frame sizes for height and inseam.

2-year warranty service.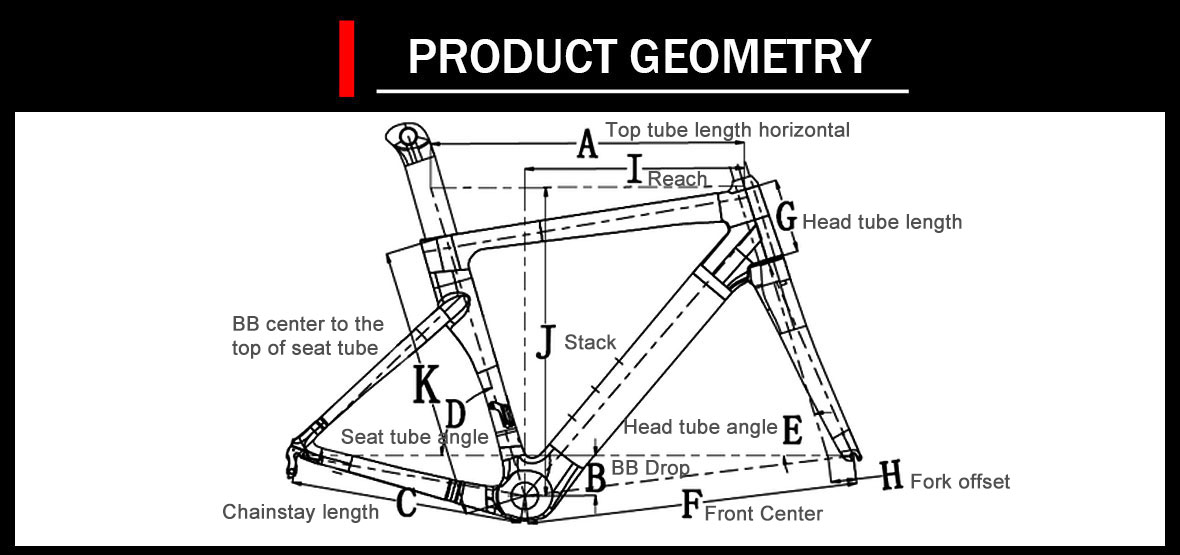 Product Geometry
Frame Size of a Bike
48cm
51cm
54cm
56cm
A(mm)
Top tube length horizontal
519
535
550
565
B(mm)
BB Drop
68
68
68
68
C(mm)
Chainstay length
411
411
411
411
D(°)
Seat tube angle
73
73
73
73
E(°)
Head tube angle
70.5
72.2
73.1
73.5
F(mm)
Front Center
568
570
577
588
G(mm)
Head tube length
94
112
130
152
H(mm)
Fork offset
43
43
43
43
I(mm)
Reach
368
377
385
394
J(mm)
Stack
495
518
538
560
K(mm)
BB center to the top of seat tube
429
454
474
498
Internal cable routing diagram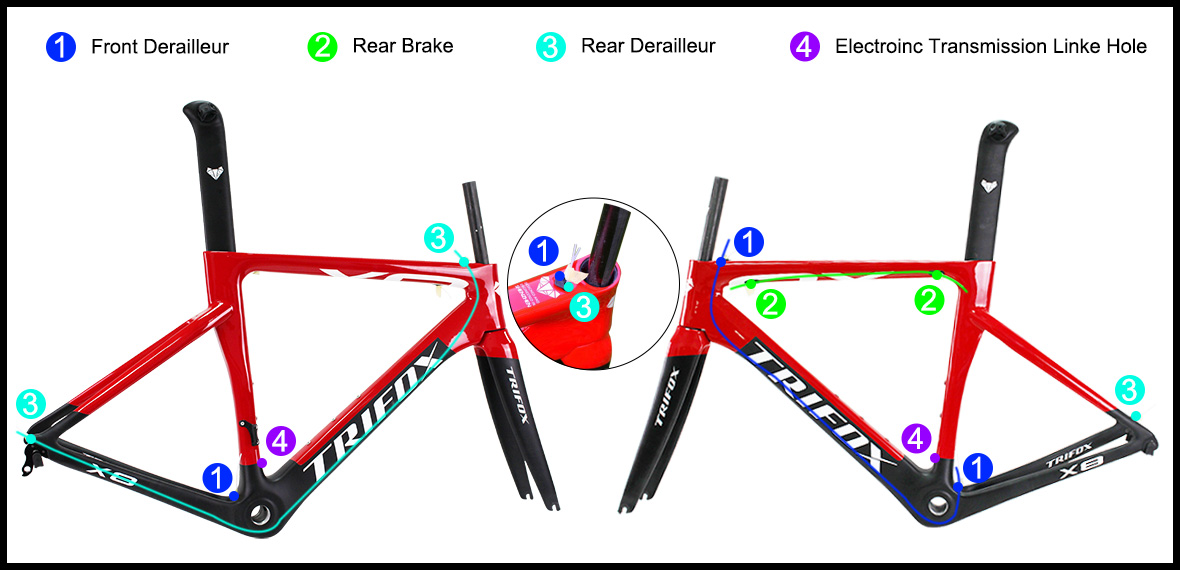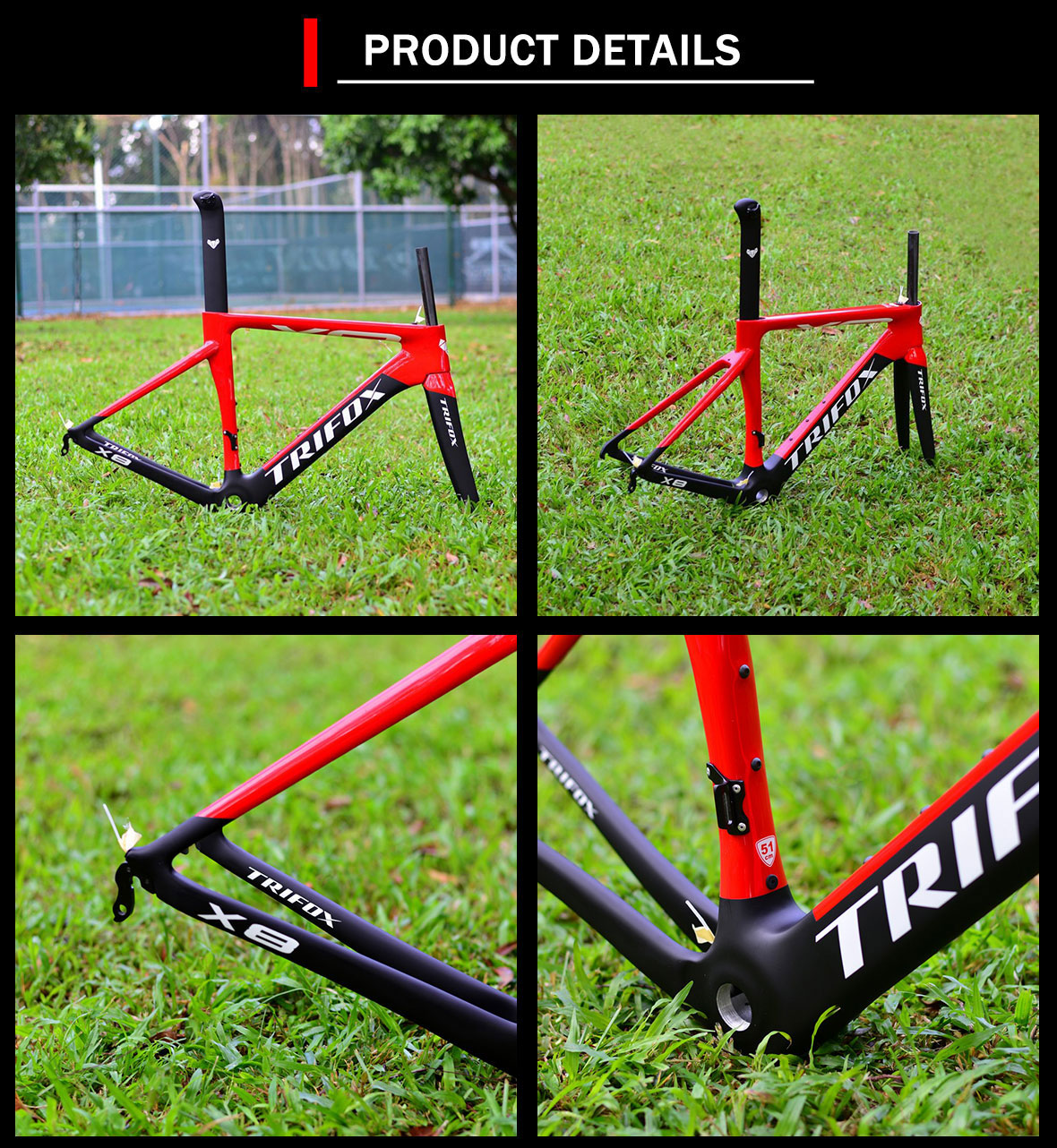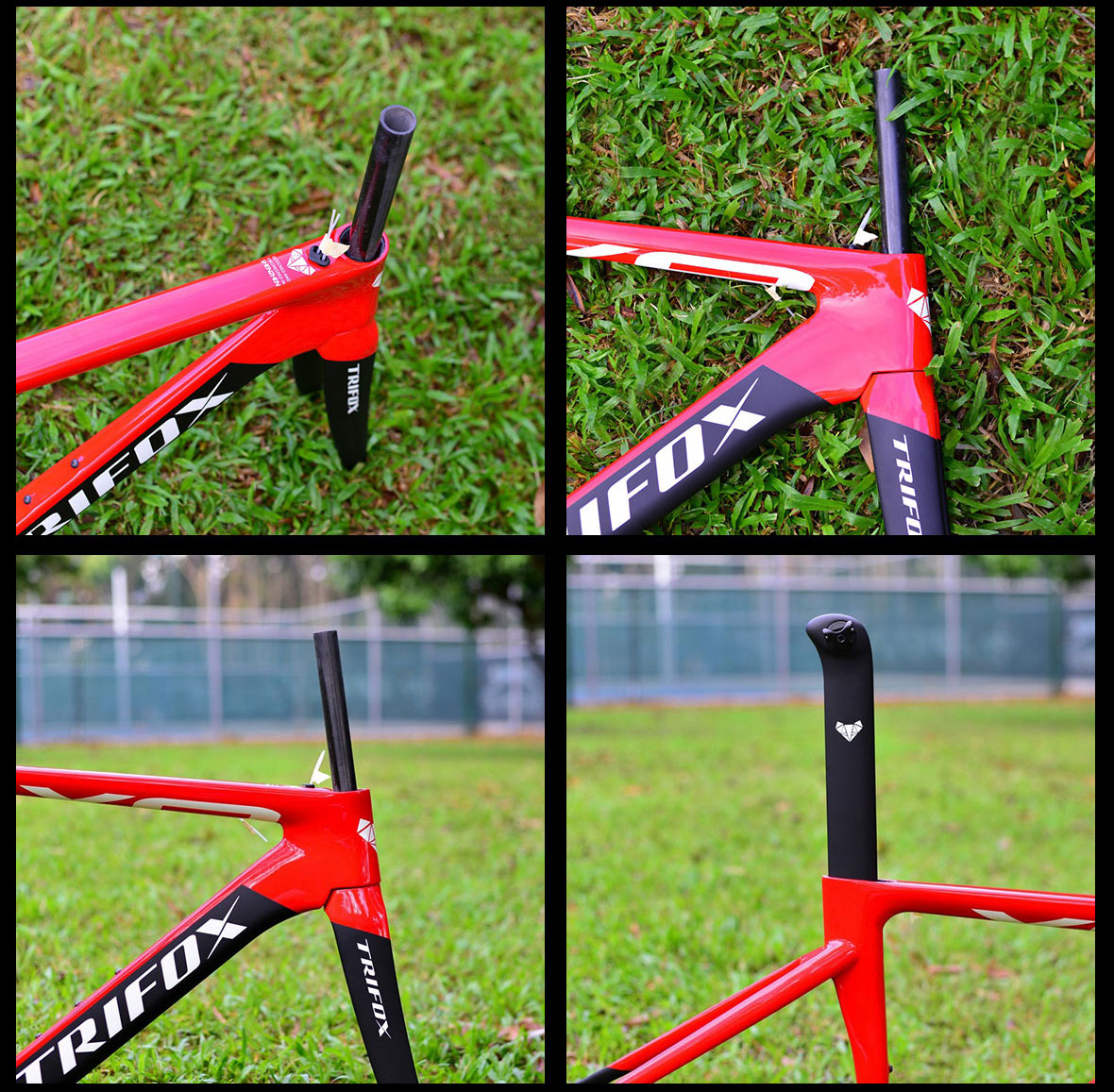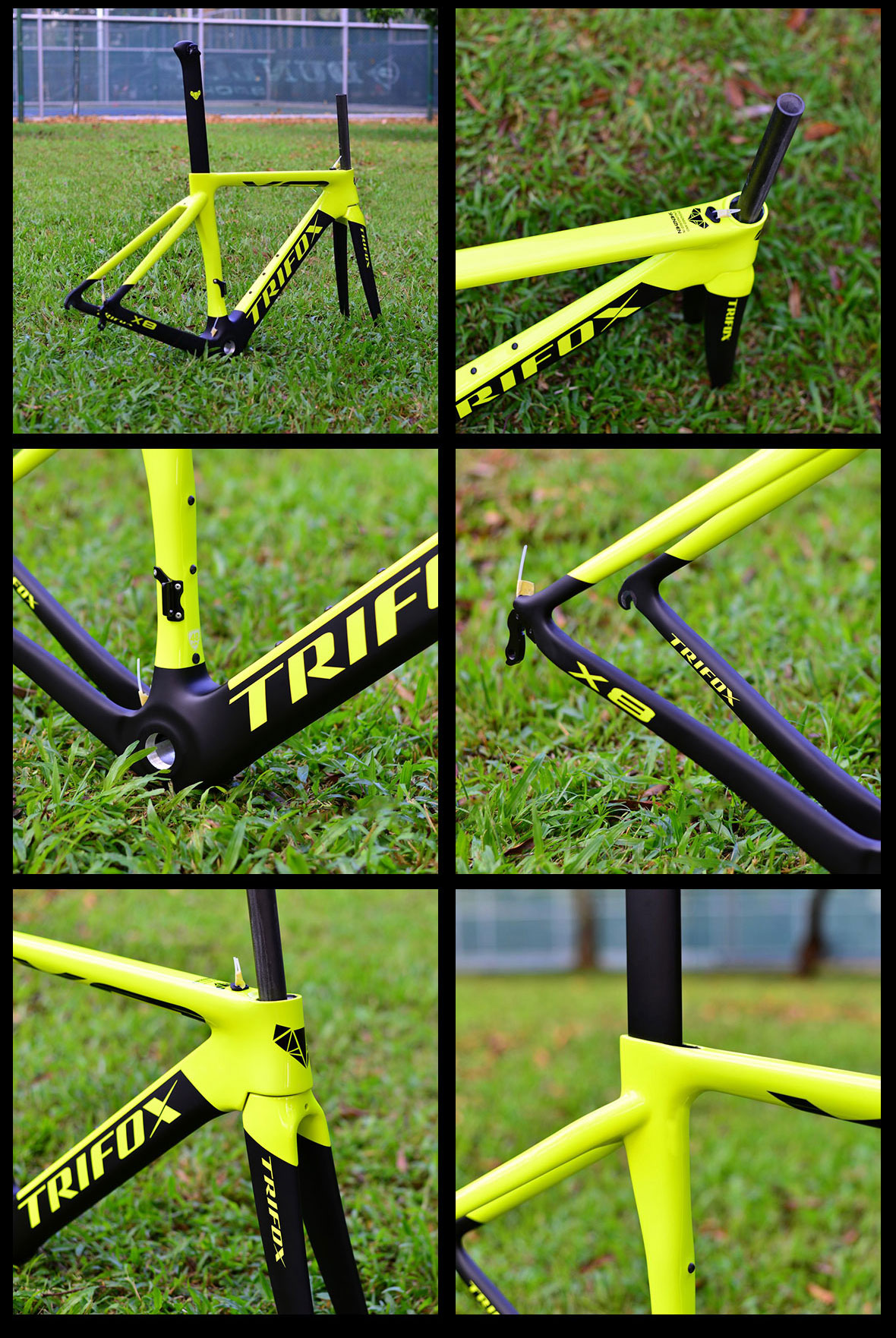 Product Weight
| | |
| --- | --- |
| Size / Components | Weight |
| 48cm | 1115g ± 20g |
| 51cm | 1163g ± 20g |
| 54cm | 1188g ± 20g |
| 56cm | 1313g ± 20g |
| Fork | 400g ± 2g |
| Seatpost | 225g ± 2g |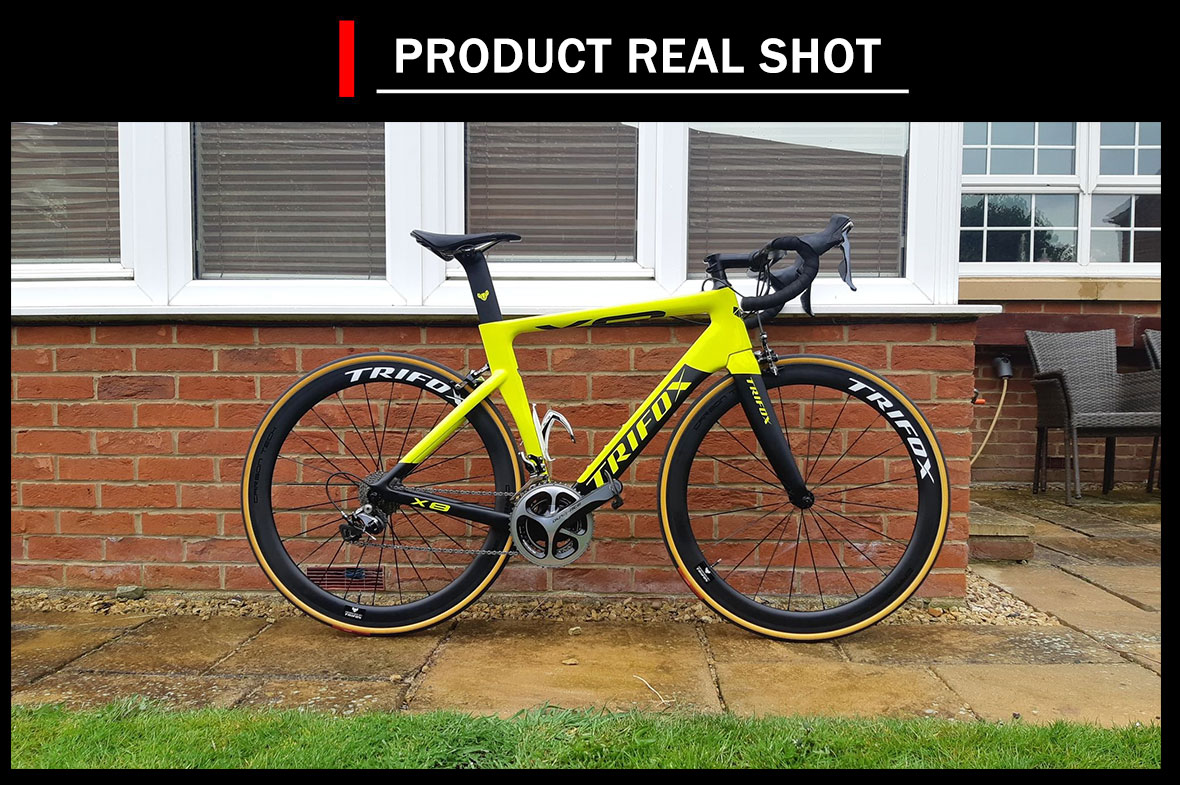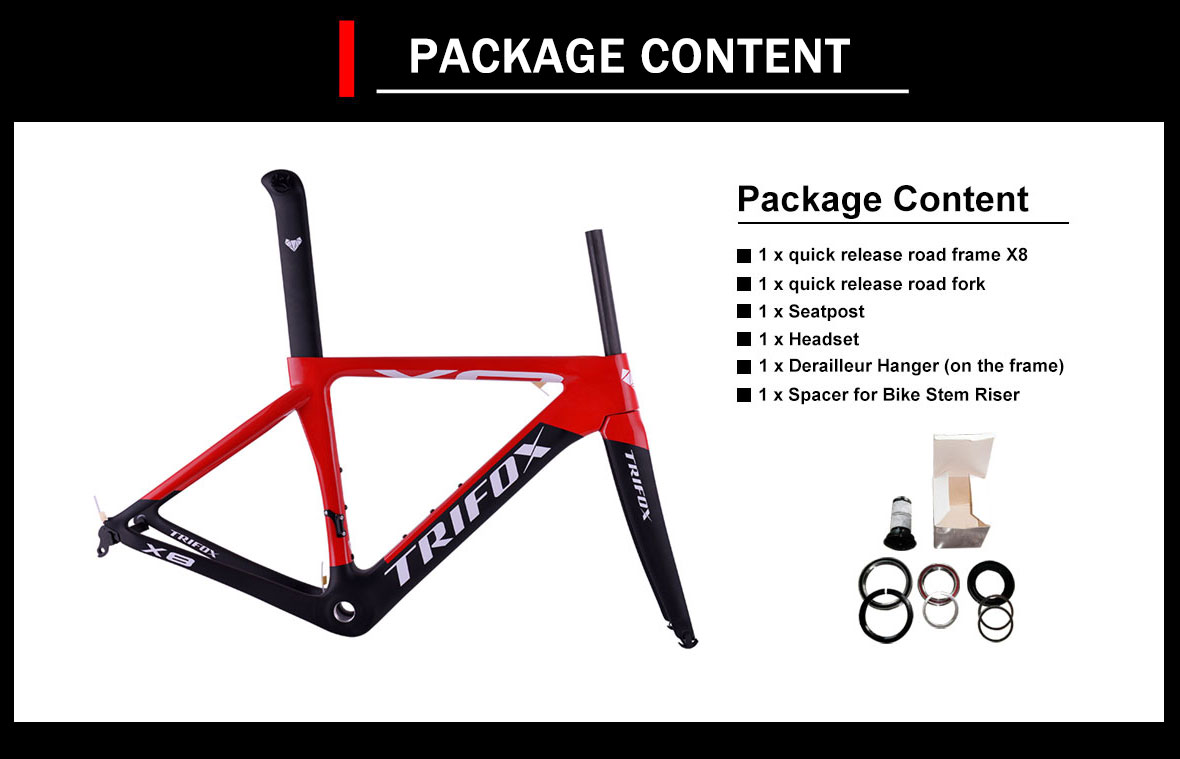 customers reviews ( 7 )
Package arrived in mint condition. The frame finish is superb, not a dent, not a scratch. By the looks quality seems very good. Nice work Trifox, I will order more stuff from this shop. Recommended!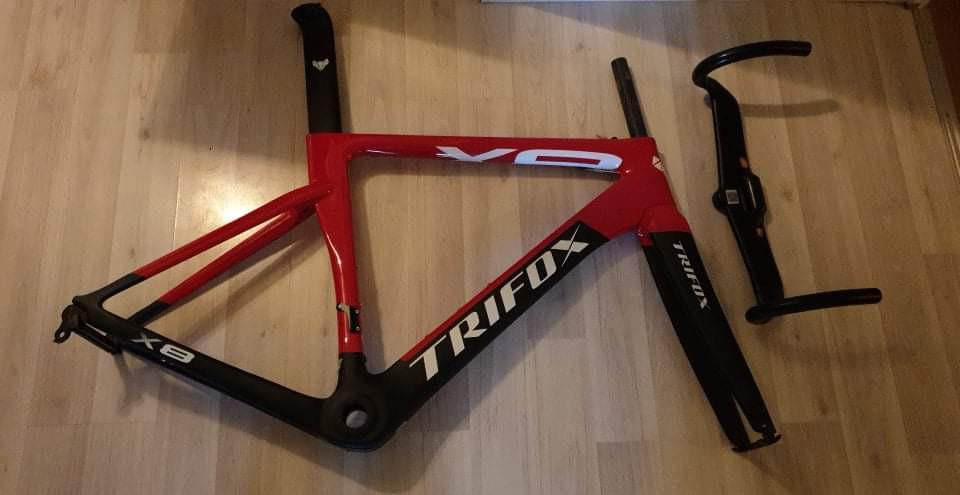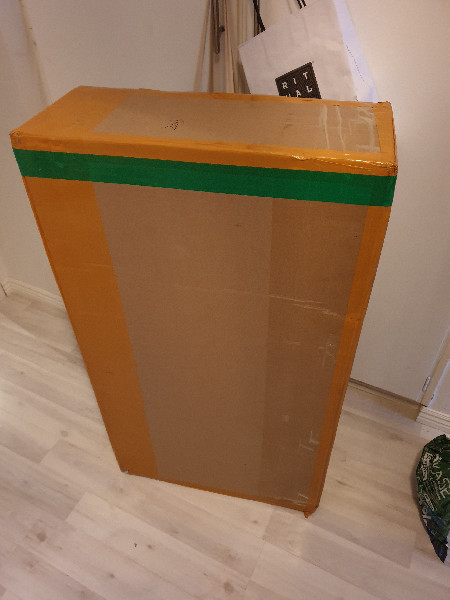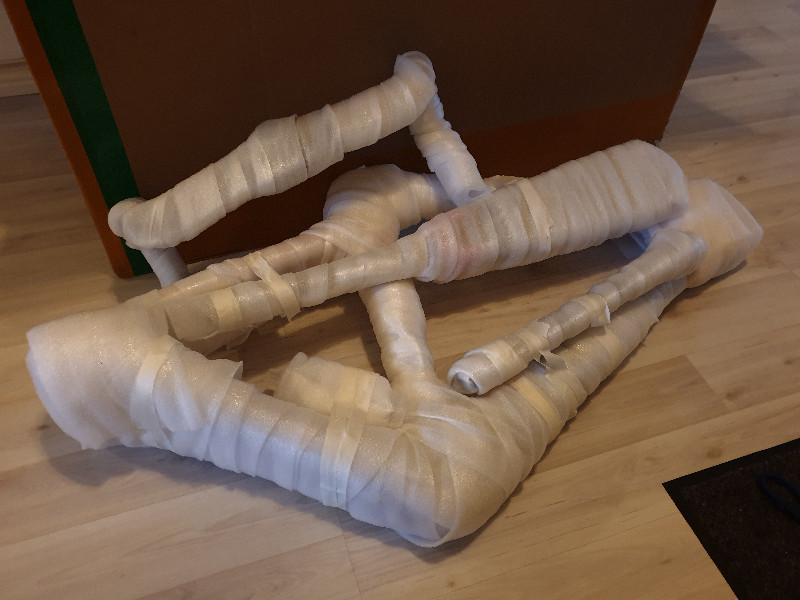 Good quality carbon frame price.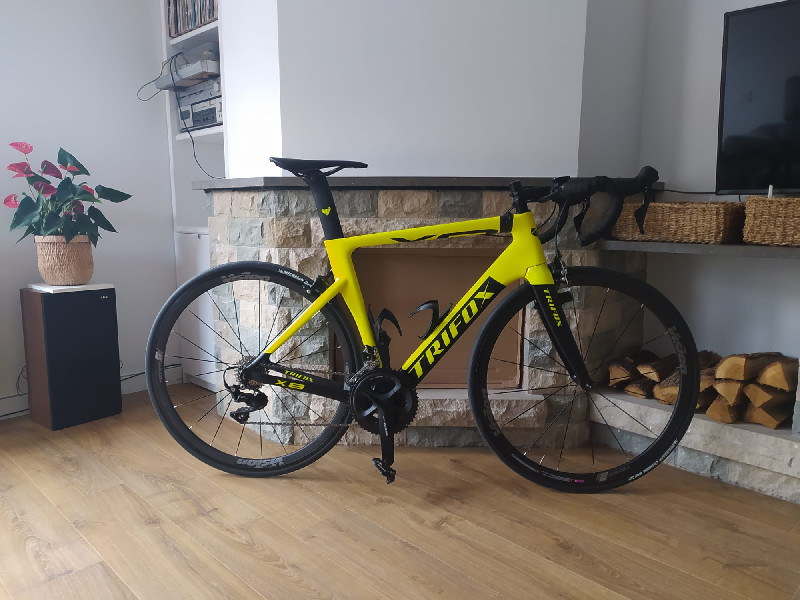 Wonderful product, packing beautiful, working fine,, shipping arrived fast. Delivery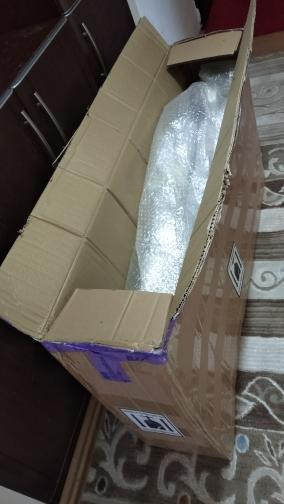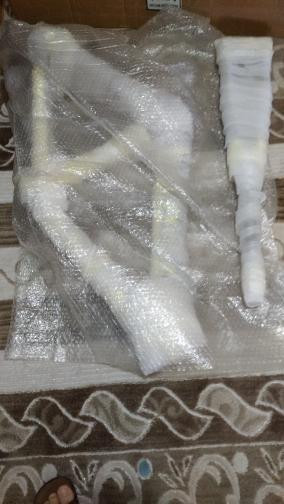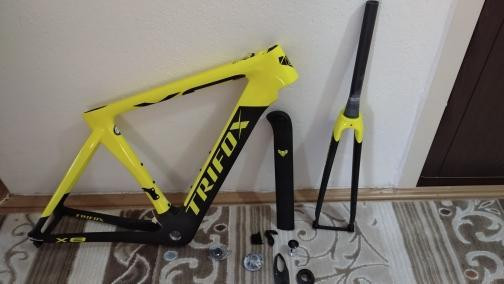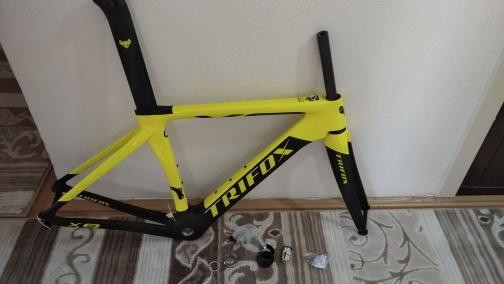 Get everything right no damage nor aranh?es perfect now assemble and see what offer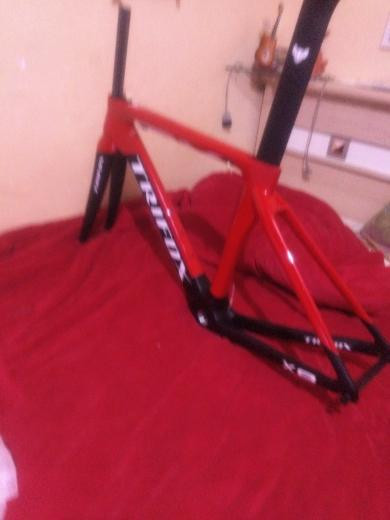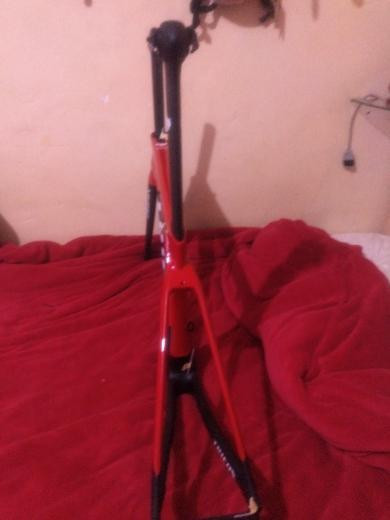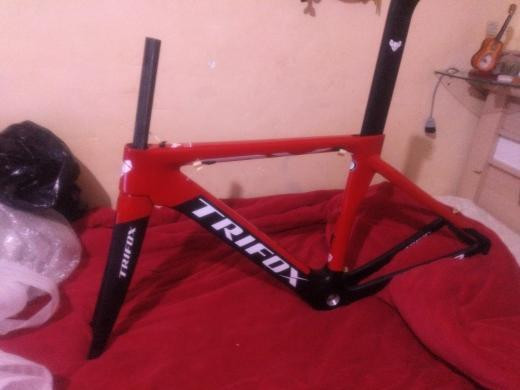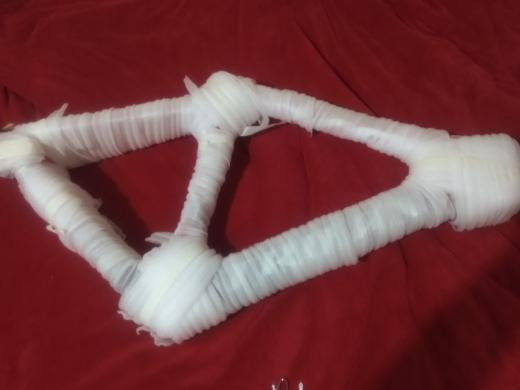 The bike frame arrived in perfect condition. I haven't tried it yet, but it looks very good.
The frame was well packaged. Took about 3 weeks to arrive to Czech Republic.Pros:The frame is very good. Rear triangle and BB area are very stiff and strong. Yet the frame is very comfortable even on broken roads. Feels tough. Good for road bike packing. On 54 I could fit 28c tire to the rear and 25c to the front. I don't see any reason why we shouldn't fit 28c. Just make the fork couple mms longer. Could be modded with resin filler.Cons:You're gonna need a round file to build this frame. Holes for brake nuts were filled with paint and took quite a while to file it out. My rear dropouts were misaligned which meant my wheel was misaligned a lot. Had to file in more depth to right dropout. Took away about 2 mm which moved the rim by 10mm. Now wheel is dead center. The internal routing isn't good. There are two tubes in head tube area that guide the cables from top to bottom. One of these tubes had so much friction in it that my front derailleur was unusable. Fixed by using cable housing to route cable through the frame. Classical down tube cable routing would be preferable compared to questionable aero gains from top tube route.Conclusion: It is a tough, fast rim brake road bike. But the build was challenging. Finish could be better. I believe the frame is great value and I do recommend it.
I'm satisfied with my purchase, item came in good condition paint was awesome