Carbon Road Bike Frame X16QR
Preorder (About 30 Business Days)
Lightweight Carbon Road Bike Frameset X16QR
Parameter
Brand
Trifox
Model
X16QR
Product Name
Bike Frameset X16QR
Type
Road Bike Frame
Style
Super Light Bike Frame
Available sizes
700C (44 / 49 / 52 / 54 / 56 / 58 cm)
Available Colors
Chameleon Blue / Chameleon Purple / Hollow / Little Star / Red & White
Material
T800 Full Carbon Fiber
Finish
Matte black and glossy color painting
Weave
UD
Headtube
1-1/8" To 1-1/2" Tapered Integrated
Bottom Bracket
BSA-BB68 (φ 34 mm, L 68 mm)
installable
DI2 / Mechanical derailleurs
Max Wheels & Tire Size
700 x 25C
O.L.D
Front: φ9x100 mm; Rear: φ10x130 mm
Fork Rake / Offset
50 mm
Braking System
V Brake
saddle installation method:
Lock left and right
Dropout
Quick Release
Package Content
1 x Carbon Road Bike Frame X16
1 x Fork
1 x Seatpost
1 x Headset
1 x Seatpost Clamp
1 x Rear Derailleur Hanger(on the frame)
Warranty
2 years
Product Colors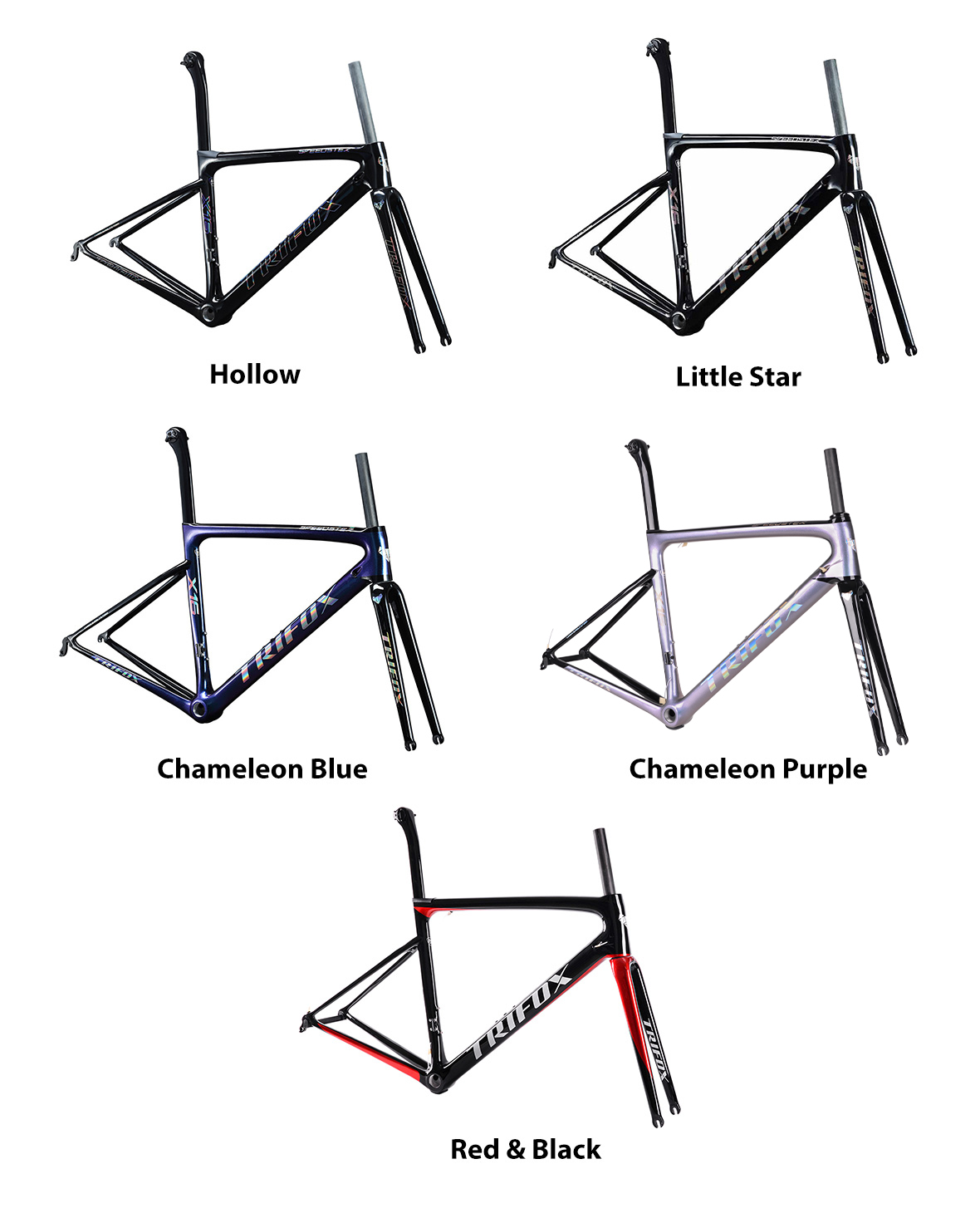 Product Geometry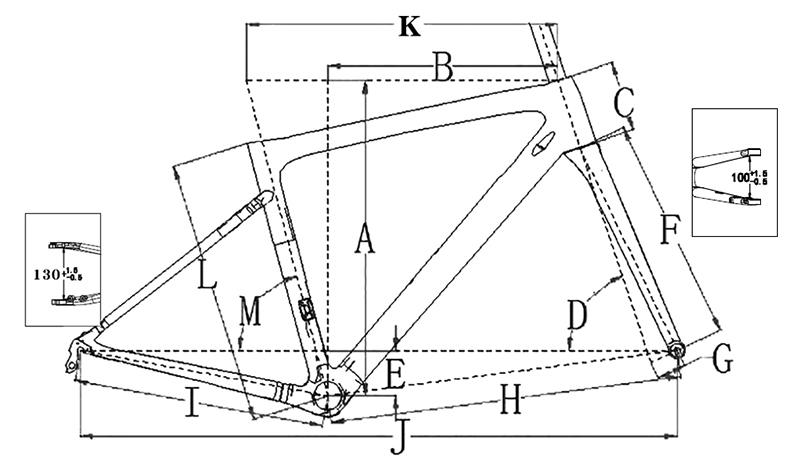 Frame Parts
44cm
49cm
52cm
54cm
56cm
58cm
Stack
A
(mm)
500
514
527
544
565
591
Reach
B
(mm)
365
375
380
384
395
402
Head Tube Length
C
(mm)
105
115
126
143
163
190
Head Tube Angle
D
(°)
70.5
71.75
72.5
73
73.5
73.5
BB Drop
E
(mm)
74
74
74
72
72
72
Fork Lenght Full
F
(mm)
366
366
366
366
366
366
Fork Rake/Offset
G
(mm)
47
47
47
44
44
44
Front Center
H
(mm)
571
574
577
579
591
606
Chainstay Length
I
(mm)
410
410
410
410
410
410
Wheelbase
J
(mm)
969
973
975
978
990
1005
Top Tube Lenght Horizontal
K
(mm)
490
508
531
540
562
577
Seat Tube Lenght
L
(mm)
400
431
462
481
501
522
Seat Tube Angle
M
(°)
76
75.5
74
74
73.5
73.5
Internal wiring diagram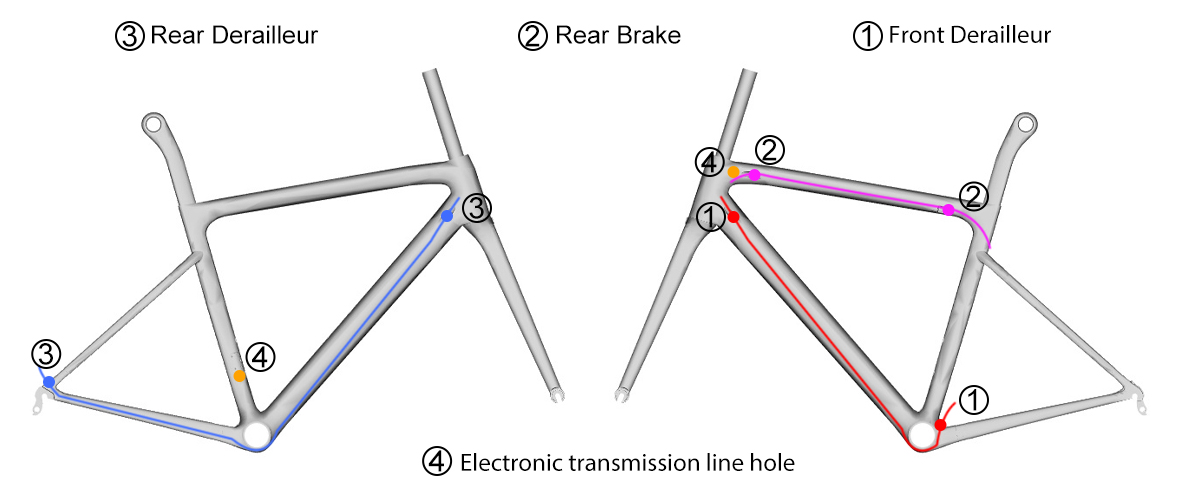 Product Weight
| | |
| --- | --- |
| Frame Size | Weight |
| 44cm | 875g ± 30g |
| 49cm | 887g ± 30g |
| 52cm | 903g ± 30g |
| 54cm | 914g ± 30g |
| 56cm | 979g ± 30g |
| 58cm | 987g ± 30g |
| FORK | 325g ± 2g |
| SEATPOST | 182g ± 2g |
Product Details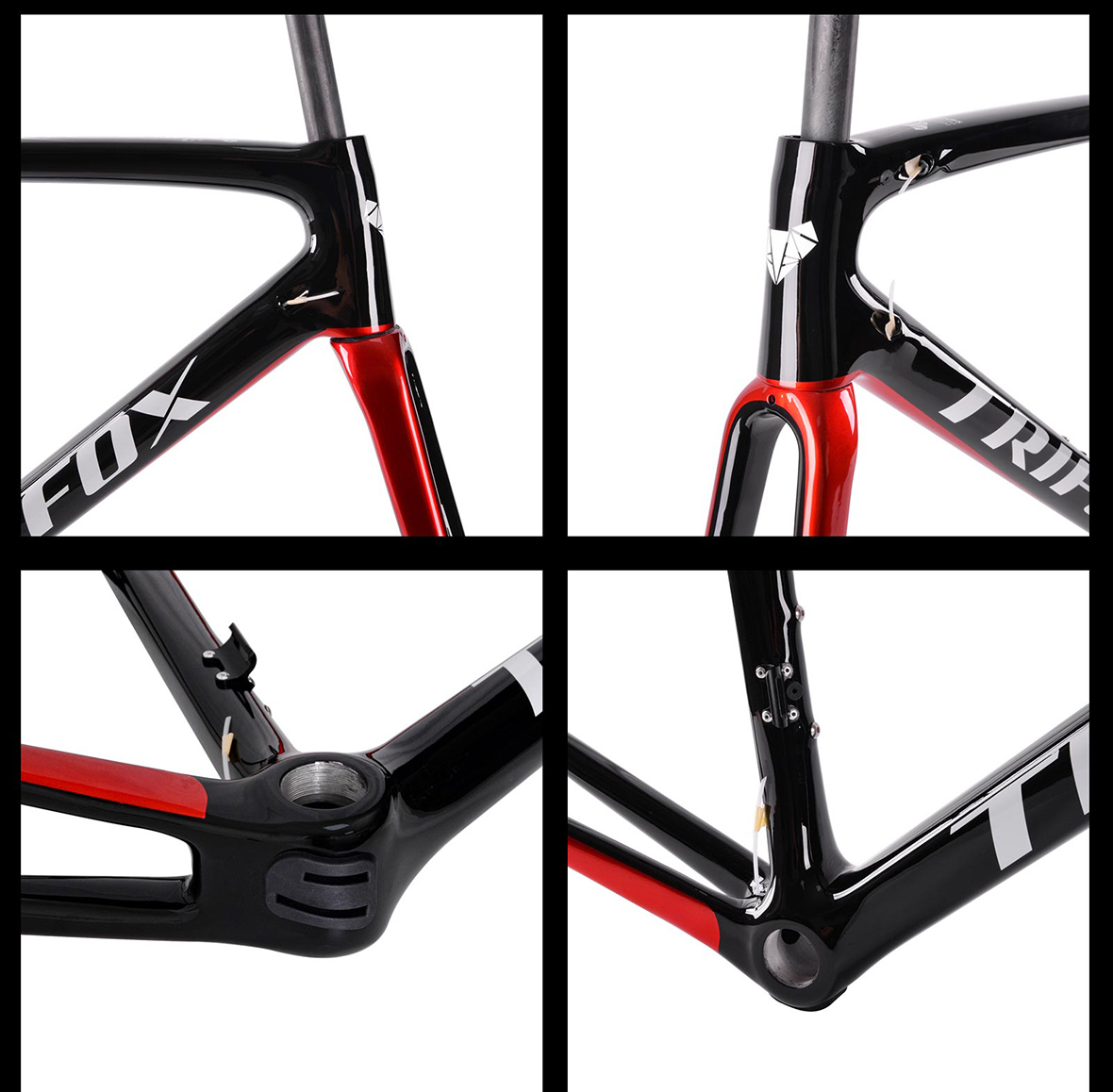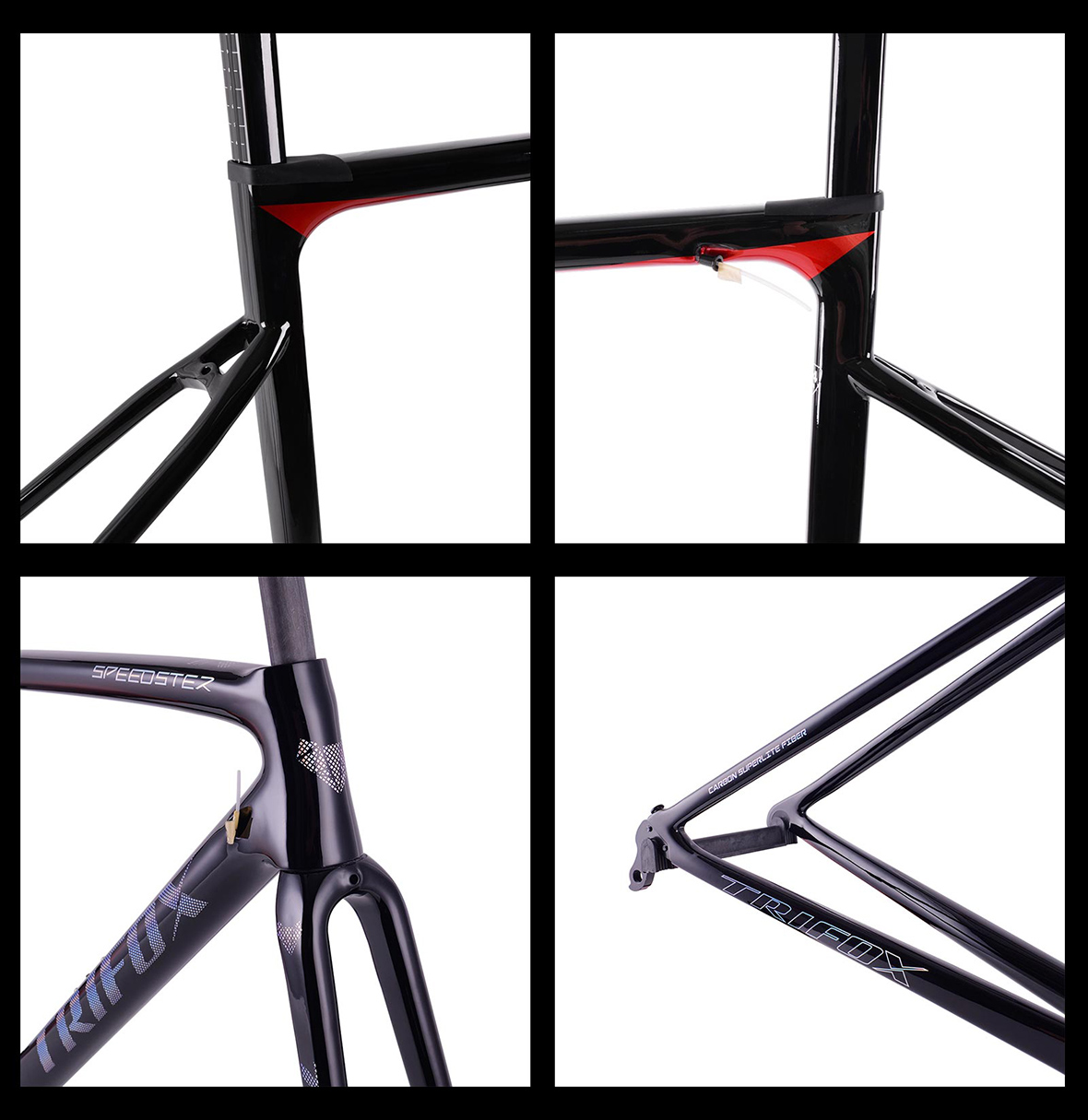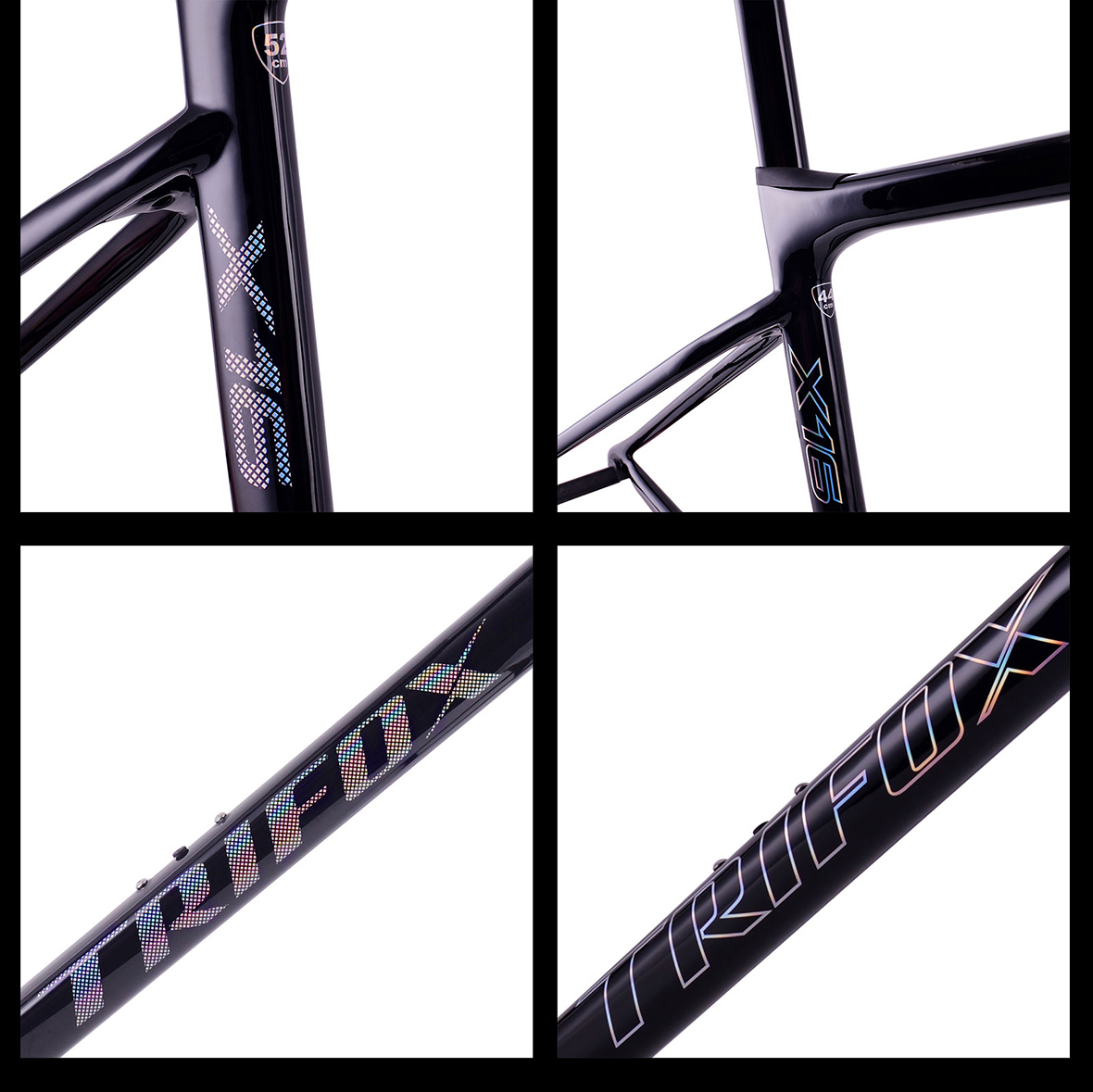 Real Shot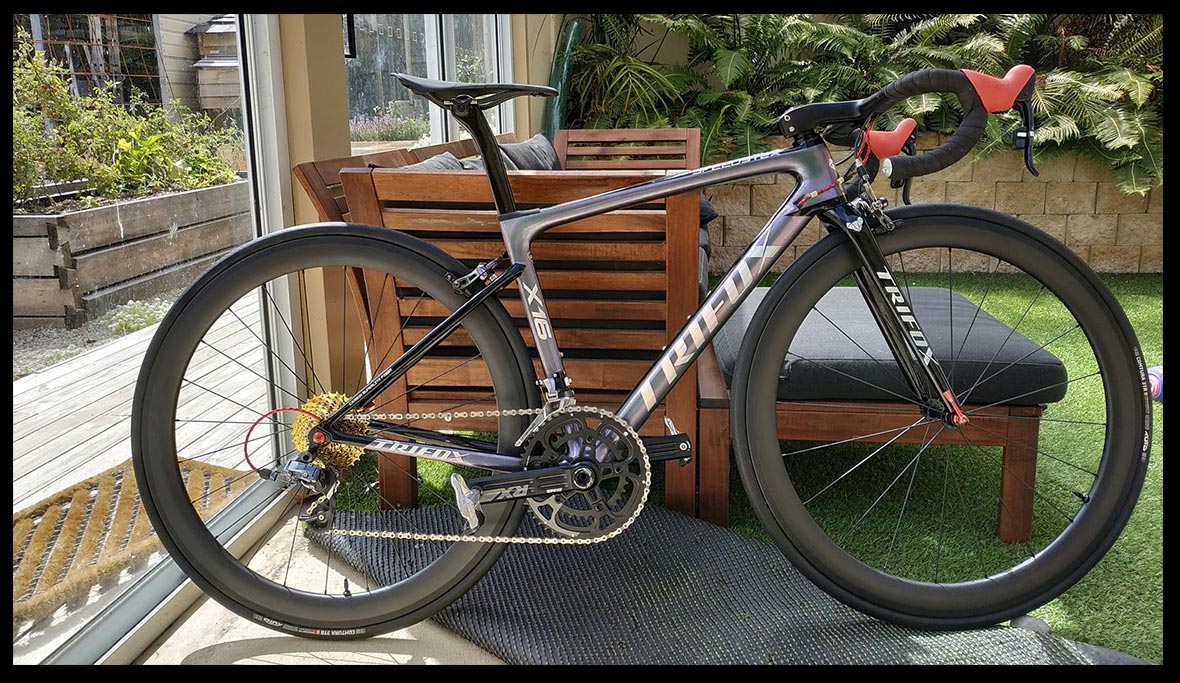 customers reviews ( 4 )
It arrived into the expected time. The frame quality looks good. I've tested it twice on the road and it worked perfectly. I think this frame is a good choice.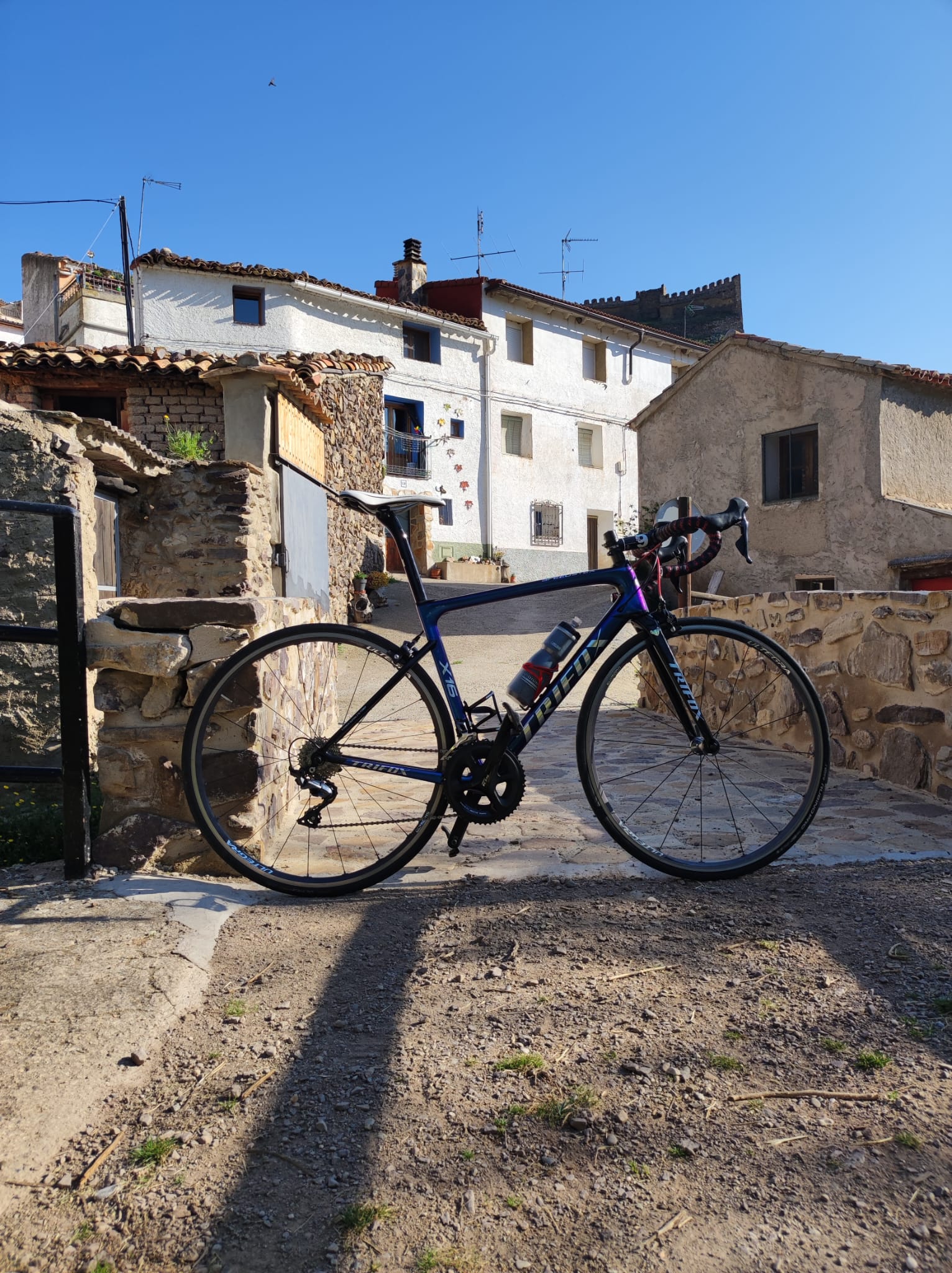 Very responsible, excellent service and fast action.
The frame was delivered to Ireland (Europe) in about 3 weeks in perfect condition, well packaged. A few weeks later I built the bike up using a combination of parts from an old bike and some new parts. It rides really well, I've had it up in 3 different mountain ranges around Ireland so far and it climbs beautifully (very light) and descends with no issues, very stable. Love it !!
I bought the frame for my son. It was beautiful than expected. Five scores for sure!