Carbon Road Bike Frame X16QR
Lightweight Carbon Road Bike Frameset X16QR
Parameter
Brand
Trifox
Model
X16QR
Product Name
Bike Frameset X16QR
Type
Road Bike Frame
Style
Super Light Bike Frame
Available sizes
700C (44 / 49 / 52 / 54 / 56 / 58 cm)
Available Colors
Chameleon Blue / Chameleon Purple / Hollow / Little Star / Red & White
Material
T800 Full Carbon Fiber
Finish
Matte black and glossy color painting
Weave
UD
Headtube
1-1/8" To 1-1/2" Tapered Integrated
Bottom Bracket
BSA-BB68 (φ 34 mm, L 68 mm)
installable
DI2 / Mechanical derailleurs
Max Wheels & Tire Size
700 x 25C
O.L.D
Front: φ9x100 mm; Rear: φ10x130 mm
Fork Rake / Offset
50 mm
Braking System
V Brake
saddle installation method:
Lock left and right
Dropout
Quick Release
Package Content
1 x Carbon Road Bike Frame X16
1 x Fork
1 x Seatpost
1 x Headset
1 x Seatpost Clamp
1 x Rear Derailleur Hanger(on the frame)
Warranty
2 years
Product Colors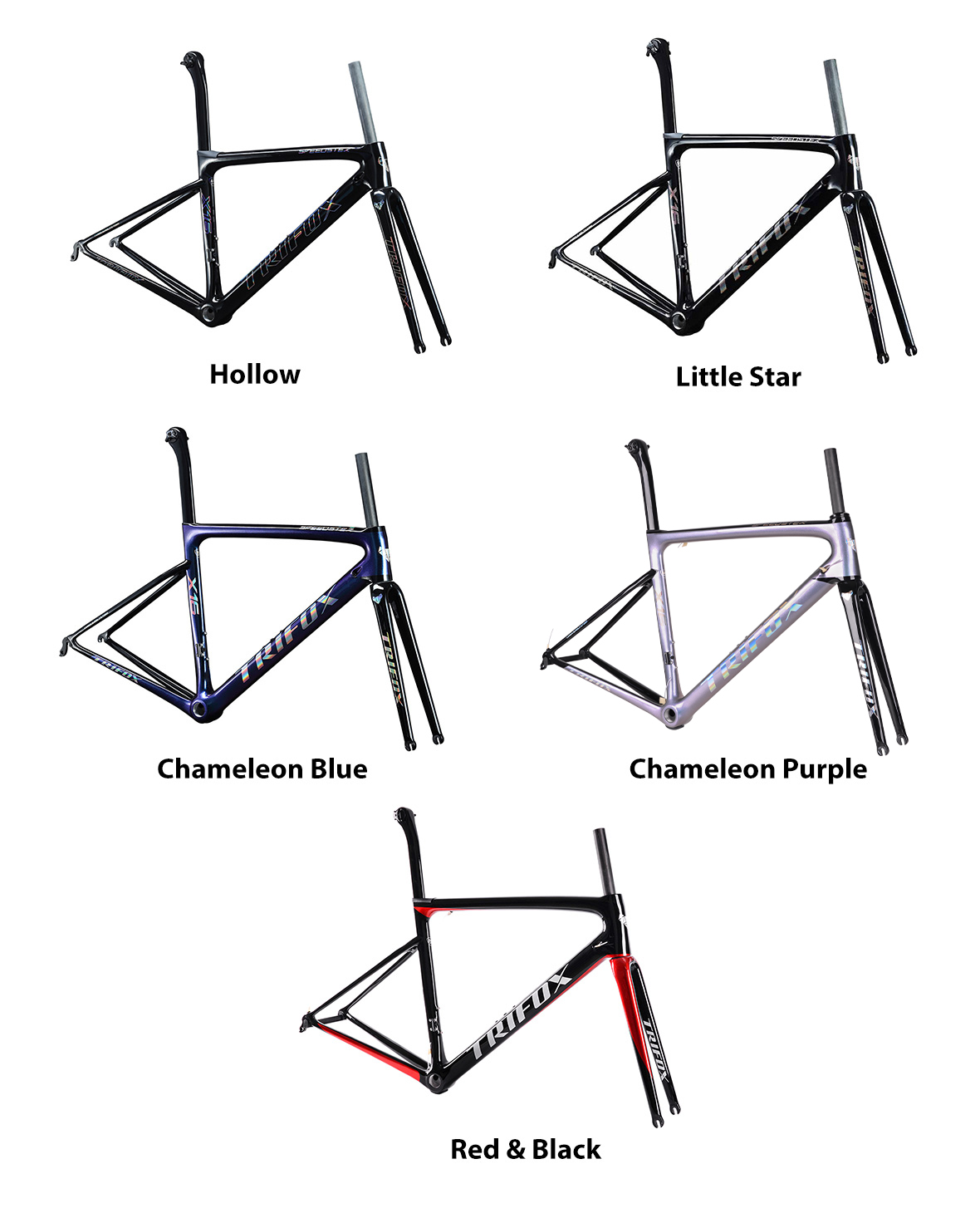 Product Geometry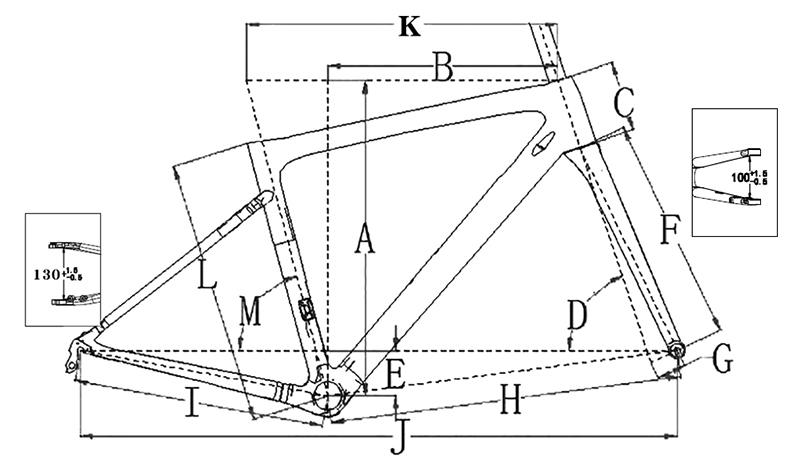 Frame Parts
44cm
49cm
52cm
54cm
56cm
58cm
Stack
A
(mm)
500
514
527
544
565
591
Reach
B
(mm)
365
375
380
384
395
402
Head Tube Length
C
(mm)
105
115
126
143
163
190
Head Tube Angle
D
(°)
70.5
71.75
72.5
73
73.5
73.5
BB Drop
E
(mm)
74
74
74
72
72
72
Fork Lenght Full
F
(mm)
366
366
366
366
366
366
Fork Rake/Offset
G
(mm)
47
47
47
44
44
44
Front Center
H
(mm)
571
574
577
579
591
606
Chainstay Length
I
(mm)
410
410
410
410
410
410
Wheelbase
J
(mm)
969
973
975
978
990
1005
Top Tube Lenght Horizontal
K
(mm)
490
508
531
540
562
577
Seat Tube Lenght
L
(mm)
400
431
462
481
501
522
Seat Tube Angle
M
(°)
76
75.5
74
74
73.5
73.5
Internal wiring diagram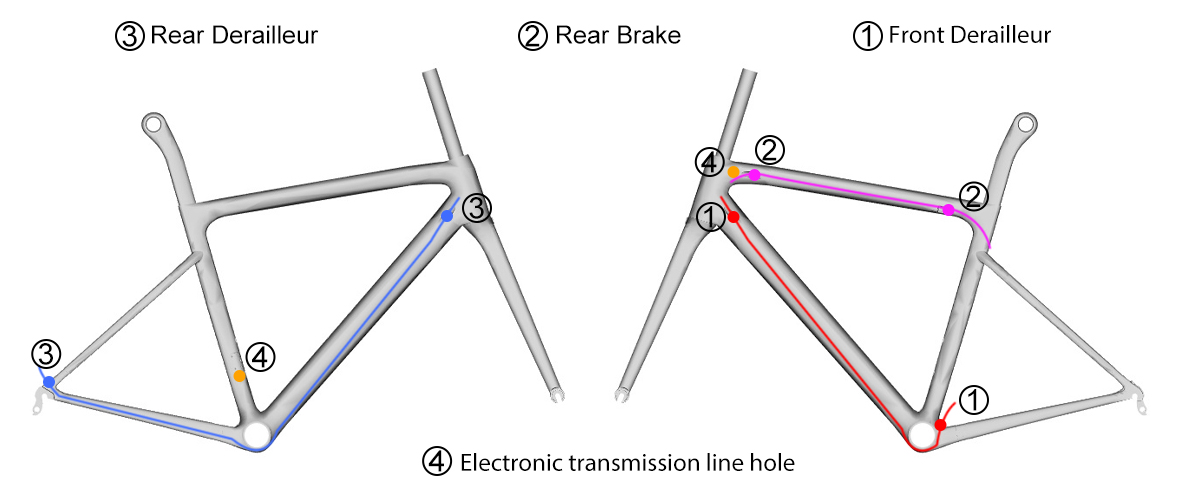 Product Weight
| | |
| --- | --- |
| Frame Size | Weight |
| 44cm | 875g ± 30g |
| 49cm | 887g ± 30g |
| 52cm | 903g ± 30g |
| 54cm | 914g ± 30g |
| 56cm | 979g ± 30g |
| 58cm | 987g ± 30g |
| FORK | 325g ± 2g |
| SEATPOST | 182g ± 2g |
Product Details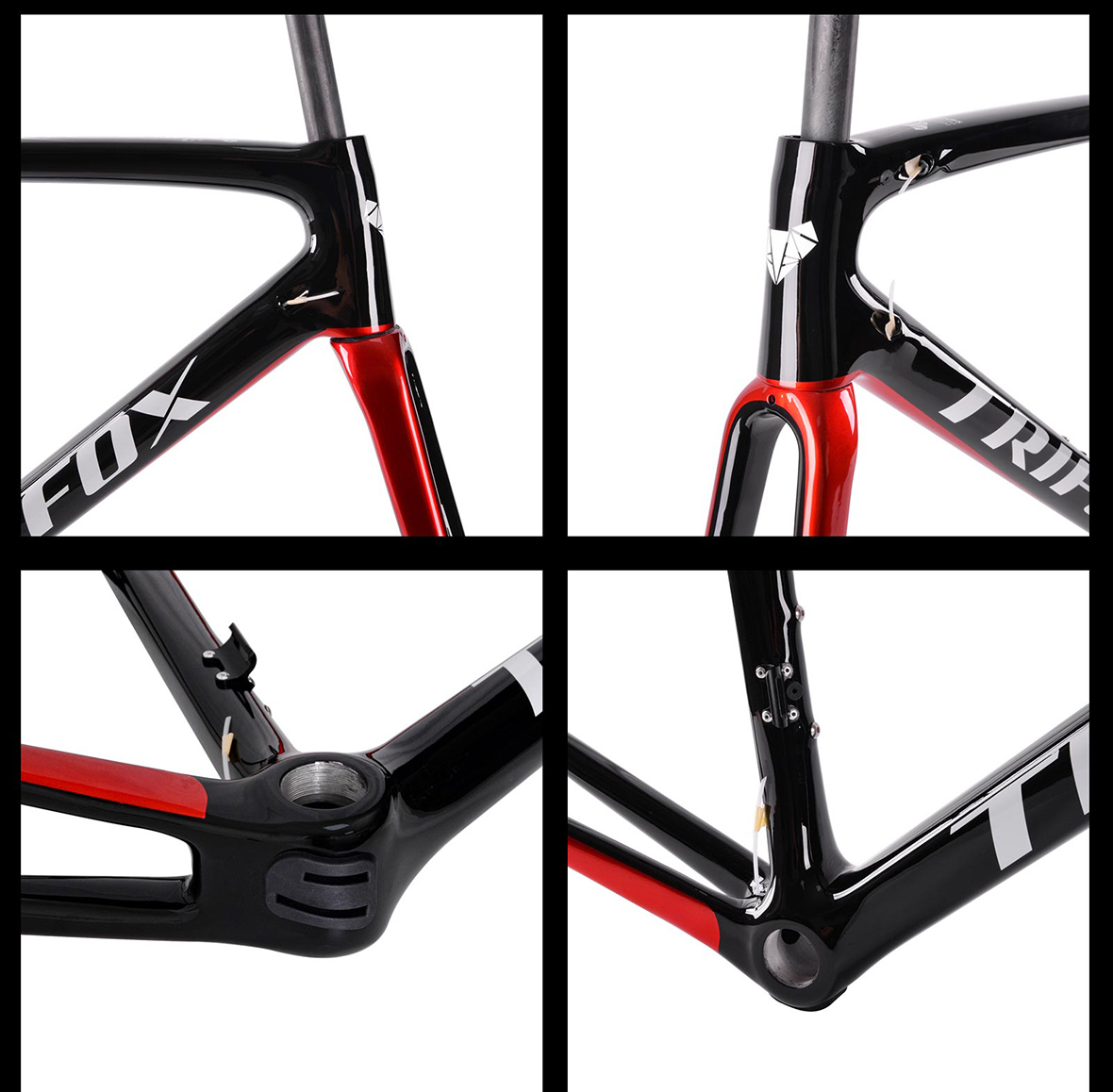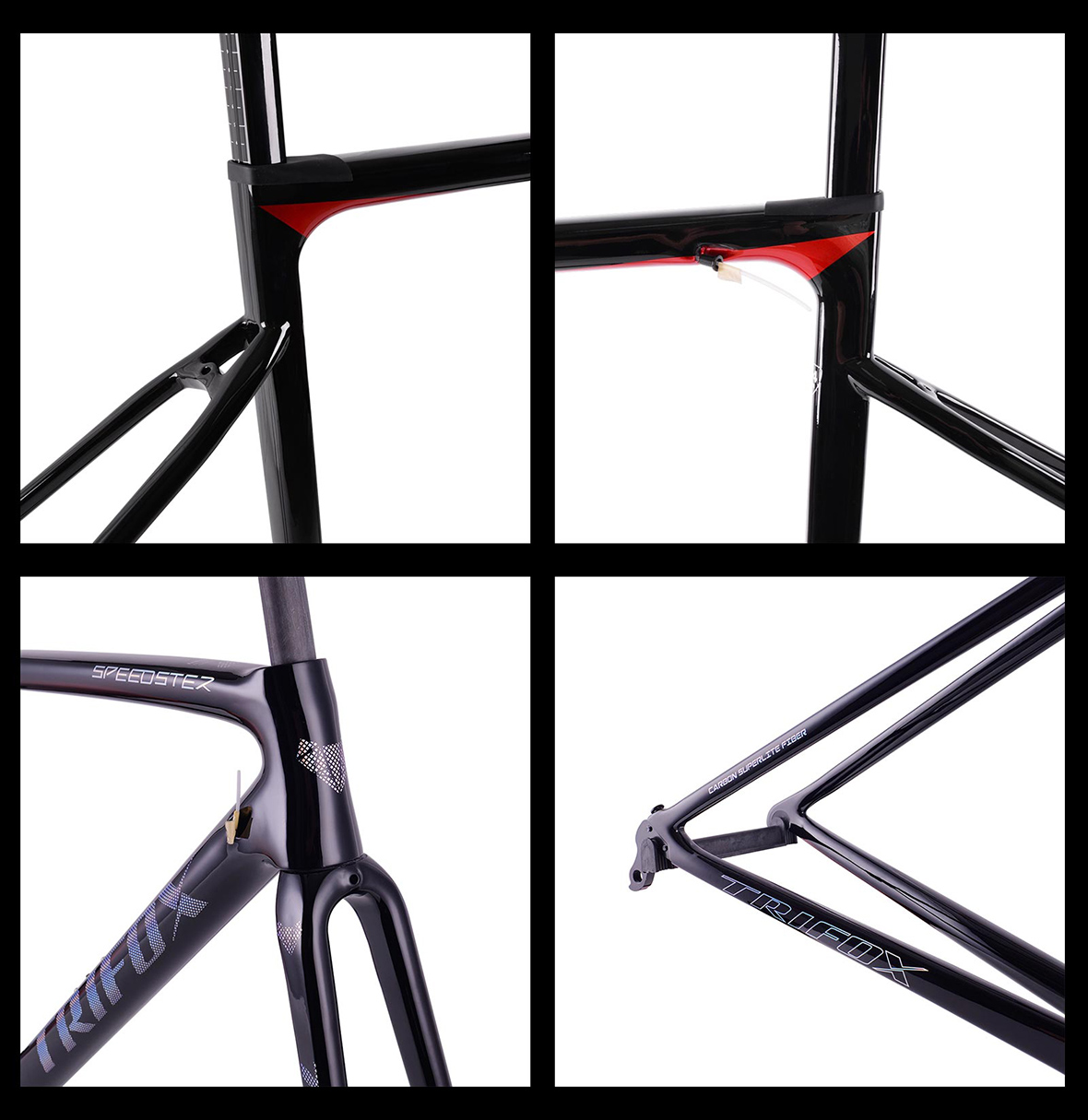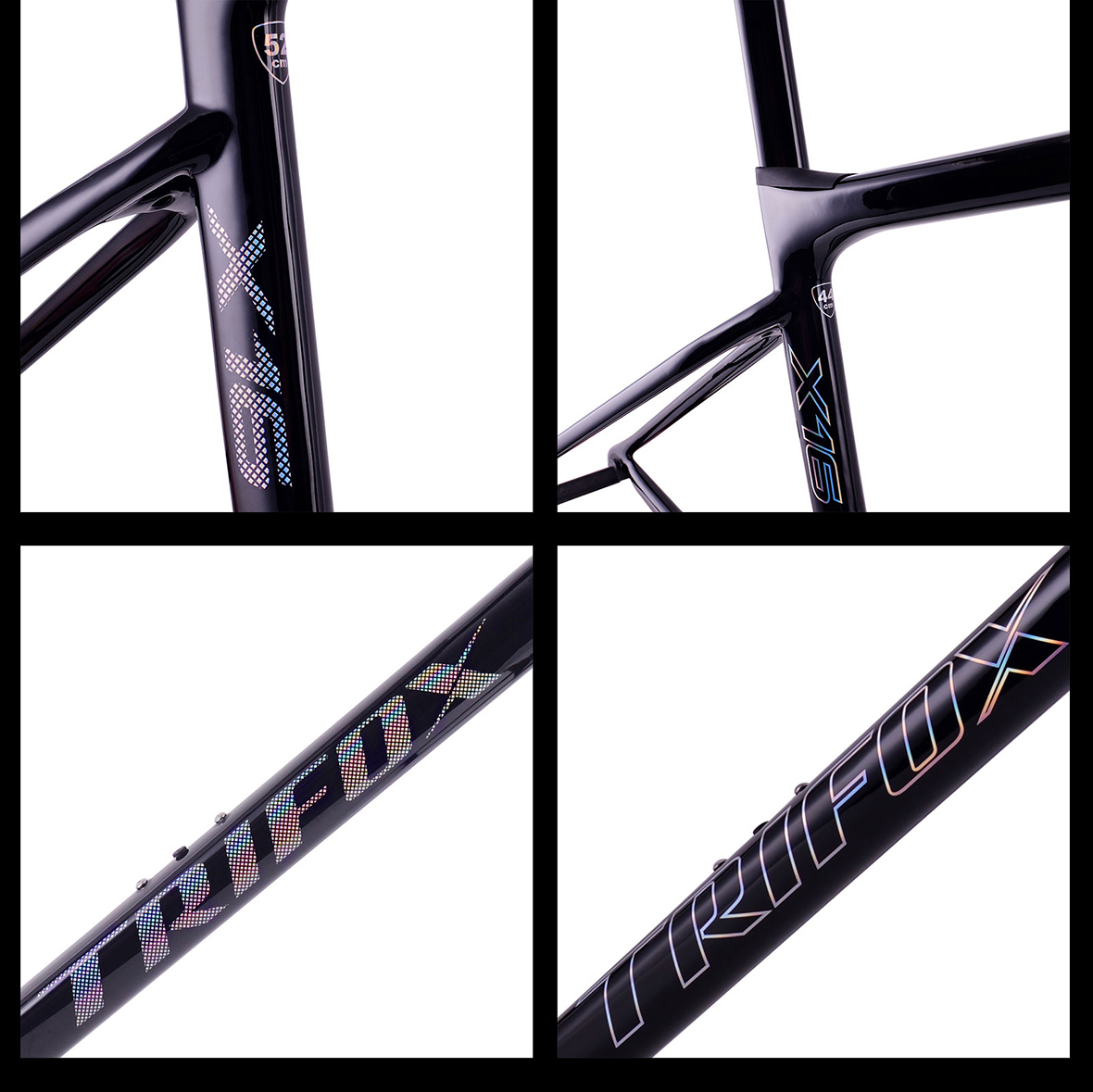 Real Shot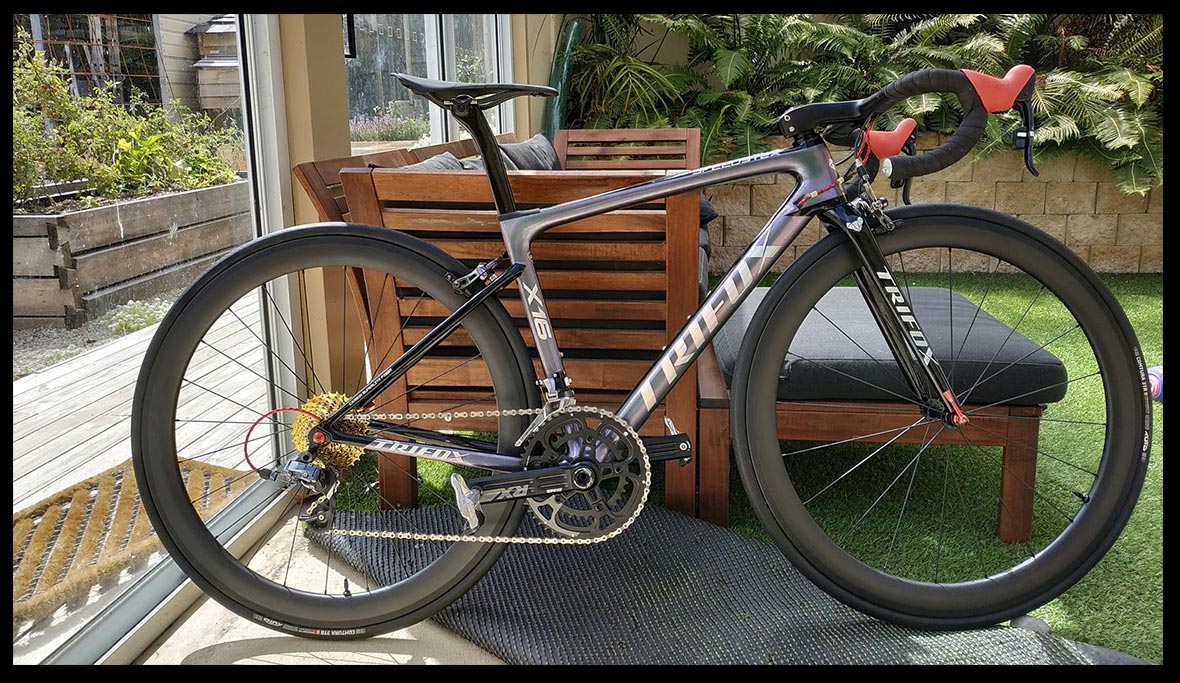 customers reviews ( 6 )
It arrived into the expected time. The frame quality looks good. I've tested it twice on the road and it worked perfectly. I think this frame is a good choice.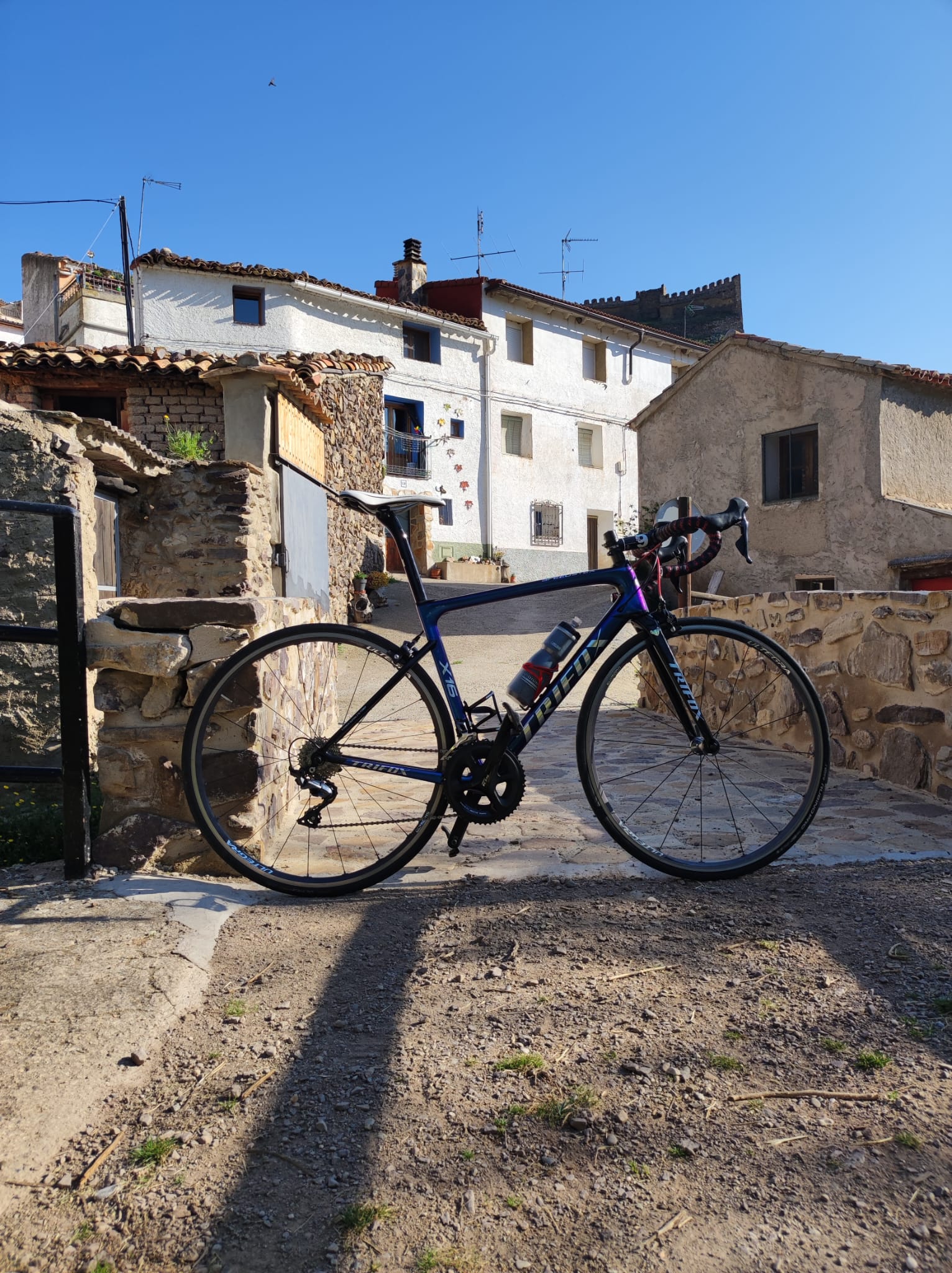 Unlucky since the blue color out of stock, but changed to purple. Turn up to beautiful bike.
Very pleased overall. Required a bit of finesse in a few areas but overall very happy. Let's get into it:Pros: Frame, fork, seat post and the little bits (seat post clamp, headset, steerer compression plug, etc.) fit well and looked good except for the seat post clamp cover. The bike looked cleaner without the seat post clamp cover which is just a rubber flat piece that appears to be an after thought. Everything was packaged well and delivered in less than a week! Plenty of steerer tube length and seat post length for the wife (5'7" on a 54cm frame). Cable routing was easy and straight forward. The pre-installed guide tubes made it easy. The bottom access panel below the bottom bracket was easy to remove and replace to help route the derailleur cables. Only needed cable housing for the rear derailleur to frame, rear brake to frame, and four cockpit routings (rear brake to frame, both derailleurs to frame, and front brake lever to front brake caliper). Very clean and easy overall. Bottom bracket install was easy (BSA) and without issue. Shimano R7000 crankset spins smoothly. I was surprised by how good the color and paint looked and matched the image shown. It definitely changes colors, chameleon, but is also very true to the photo depending upon lighting.Cons:---Excess paint/overspray1) Rear Drop Outs - Would not accept new Shimano WH-RS500 properly. Had to sand/file a small amount of clear coat from the drop outs and the wheel sits perfectly.2) Rear Brake Caliper Mounting Hole - Would not accept new Shimano R7000 brake caliper bolt or nut. Had to sand/file a large amount of paint and clear coat from the hole to get the caliper and nut into mounting hole. Also, the rear brake caliper mounting hole leaves little clearance for tool access. It was accessible (~1mm excess clearance) but smaller frame sizes may have more difficulty depending upon design / placement.3) Saddle Clamp - Saddle clamp into the post was a bit difficult. Initially ended up spreading the saddle rails to get it to fit. Ended up sanding/filing some of the excess clear coat / paint away from the seat post through hole to get better engagement with the "Reese's Peanut Butter Cups" clamps which allowed better saddle engagement and security.---Front brake caliper, Shimano R7000, is at limit of pad adjustment and barely contacts rim adequately. This may become a concern once the brake pad wears as one side will wear "up" and the other side "down". The "up" side may contact the tire. https://www.youtube.com/watch?v=q4ay12CSF48&t=155s---Seat post could not be lowered into seat tube fully. There was excess layup material in the seat tube several inches down. Ended up cutting the seat post to fit so not a problem in the end, but not necessarily optimal.Wife says she likes the color and it is very light weight.Actual weights 54cm:Frame - 950 gSeat Post - 185 gFork - 360 gMisc frame set parts (headset, spacers, seat post clamp, etc.) - 192 gTotal -1687 g before trimming seat post and fork stem.Image of bike after initial spin... still tweaking some positions :)
Very responsible, excellent service and fast action.
The frame was delivered to Ireland (Europe) in about 3 weeks in perfect condition, well packaged. A few weeks later I built the bike up using a combination of parts from an old bike and some new parts. It rides really well, I've had it up in 3 different mountain ranges around Ireland so far and it climbs beautifully (very light) and descends with no issues, very stable. Love it !!
I bought the frame for my son. It was beautiful than expected. Five scores for sure!