Carbon Road Bike Frame X18
Full Internal Cable Routing Carbon Road Bike Frameset X18
Colors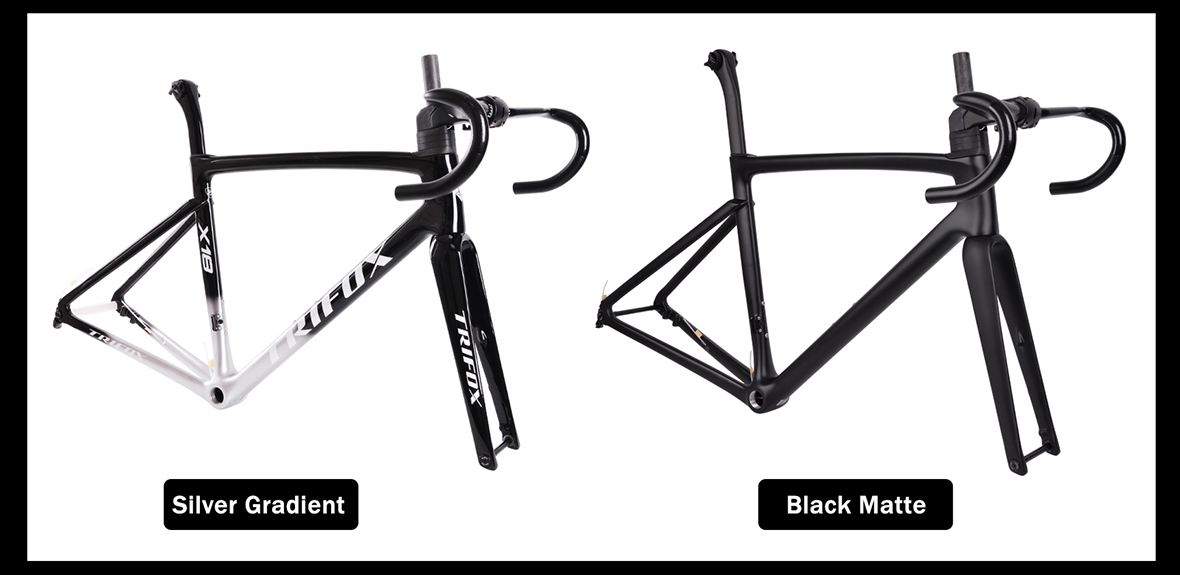 Parameter
Brand
Trifox
Model
X18
Product Name
Bike Frameset X18
Type
Road Bike Frame
Style
Full Internal Cable Routing Bike Frameset
Material
T800 Carbon Fiber
Sizes
44, 46, 49, 52, 54, 56, 58 (cm)
Color
Silver, Black Matte
Headset Size
UP: Ø52 x 8mm x 45°
Down: Ø52 x 7mm x 45°
Bottom Bracket
1.37*24mm Thread BB68 - BSA
Max Tire
28mm
Thru Axles
Rear:142mm*Ø12
Front:100mm*Ø12
Disc Rotor
140mm-160mm
Warranty
2 Years
Seatpost insertion length
7cm to 12cm
Package Content
1 x Carbon Road Bike Frame X18
1 x Carbon Fork FX18
1 x Carbon Seatpost SX18
1 x Carbon Drop Handlebar DHX18
1 x Stem STX18
1 x Headset
1 x Rear Derailleur Hanger HX18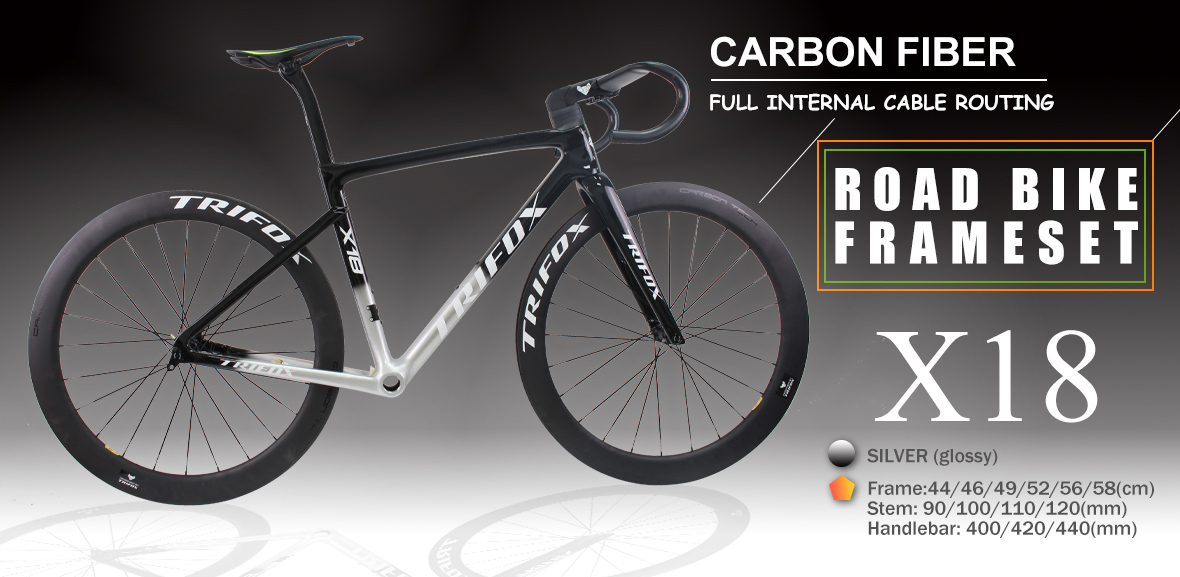 Product Geometry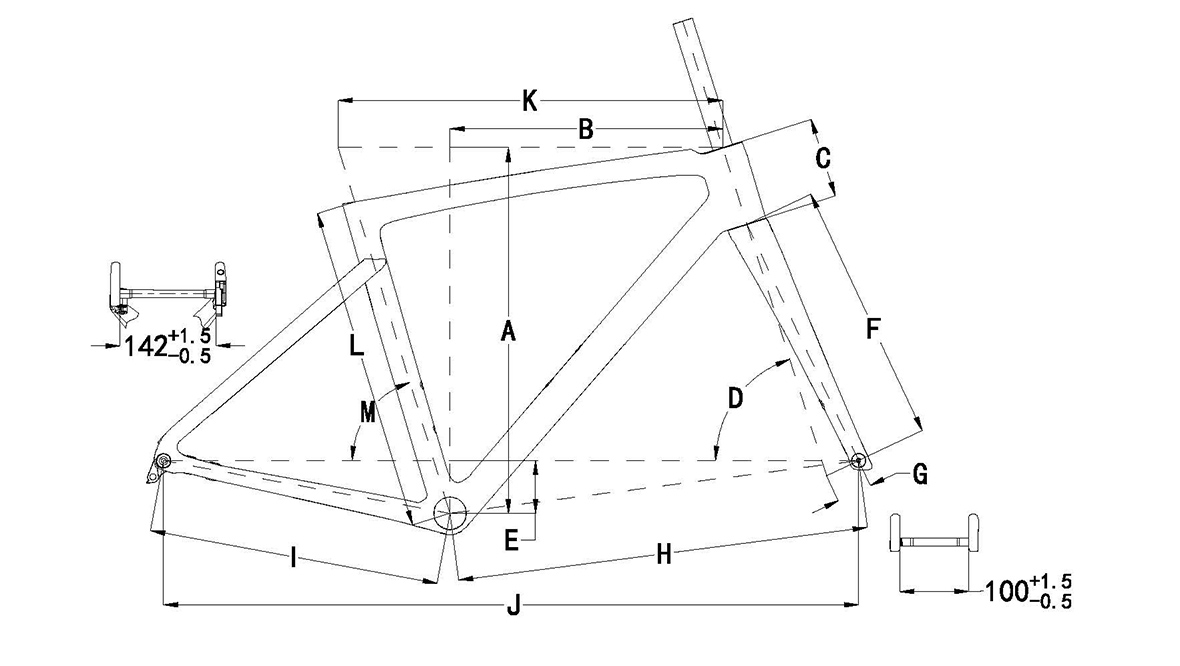 Frame Parts
44cm
46cm
49cm
52cm
54cm
56cm
58cm
Stack
A(mm)
491
492
504
517
534
555
581
Reach
B(mm)
369
373
378
383
387
398
405
Head Tube Length
C(mm)
93
95
102
113
131
151
178
Head Tube Angle
D(°)
70.5
71
71.75
72.5
73
73.5
73.5
BB Drop
E(mm)
74
74
74
74
72
72
72
Fork Lenght Full
F(mm)
366
366
366
366
366
366
366
Fork Rake/Offset
G(mm)
47
47
47
47
47
47
47
Front Center
H(mm)
572
574
574
577
579
592
606
Chainstay Length
I(mm)
415
415
415
415
415
415
415
Wheelbase
J(mm)
975
978
978
980
983
996
1011
Top Tube Lenght Horizontal
K(mm)
496
500
509
531
541
563
577
Seat Tube Lenght
L(mm)
435
440
447
458
475
496
517
Seat Tube Angle
M(°)
75.5
75.5
75.5
74
74
73.5
73.5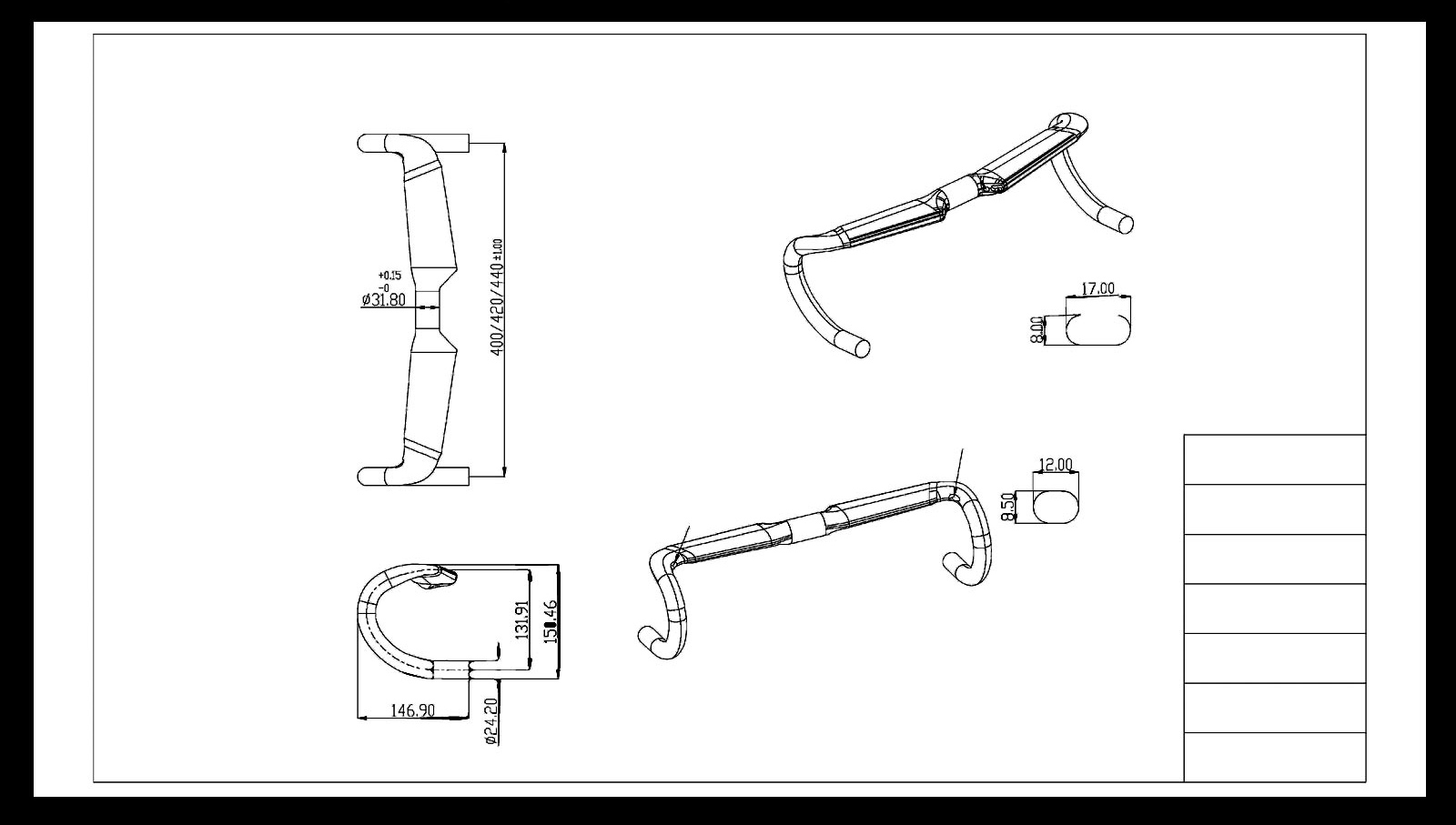 Size Recommend
| | |
| --- | --- |
| Frame Size | Recommend Height |
| 44cm | 150~156cm |
| 46cm | 156~163cm |
| 49cm | 163~172cm |
| 52cm | 172~178cm |
| 54cm | 178~184cm |
| 56cm | 184~188cm |
| 58cm | 188~192cm |
Matching size
| | |
| --- | --- |
| Frame Size | Dropbar size+Stem size |
| 44cm | 400mm+90mm |
| 46cm | 400mm+90mm |
| 49cm | 420mm+100mm |
| 52cm | 420mm+100mm |
| 54cm | 420mm+110mm |
| 56cm | 440mm+110mm |
| 58cm | 440mm+120mm |
Internal cable routing diagram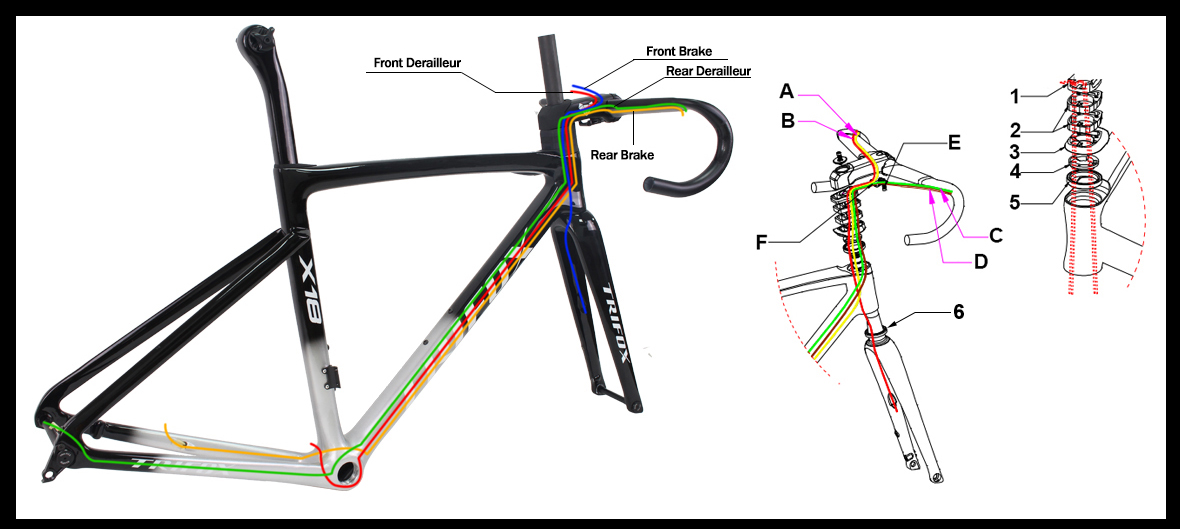 A - Front shift cable
B - Front brake cable
C - Rear brake cable
D - Rear shift cable
E - After the four wires pass through the accessories, they all pass out of this aluminum slot, and the two left and right wires pass through the left and right gaps of the aluminum respectively. The left and right directions are still arranged according to the left and right sides of the thread.
F - After the four lines are laid out, lock the aluminum cover.

1 - Black plastic par
2 - Black plastic par
3 - Black plastic par
4 - Aluminum ring- 6.5mm
5 - Thickness 8.0mm bearing
6 - Thickness 7.0mm bearing
Product Weight
Bike Frame (only frame) ± 20g
44cm
838g
46cm
850g
49cm
862g
52cm
900g
54cm
910g
56cm
960g
58cm
982g
Components ± 2g
Rear Thru-Axle Skewer
42g
Front Thru-Axle Skewer
34g
Fork
384g
Seatpost
182g
Drop Bar - 400mm
278g
Drop Bar - 420mm
283g
Drop Bar - 440mm
288g
Stem - 90mm
217g
Stem - 100mm
234g
Stem - 110mm
246g
Stem - 120mm
254g
Product Details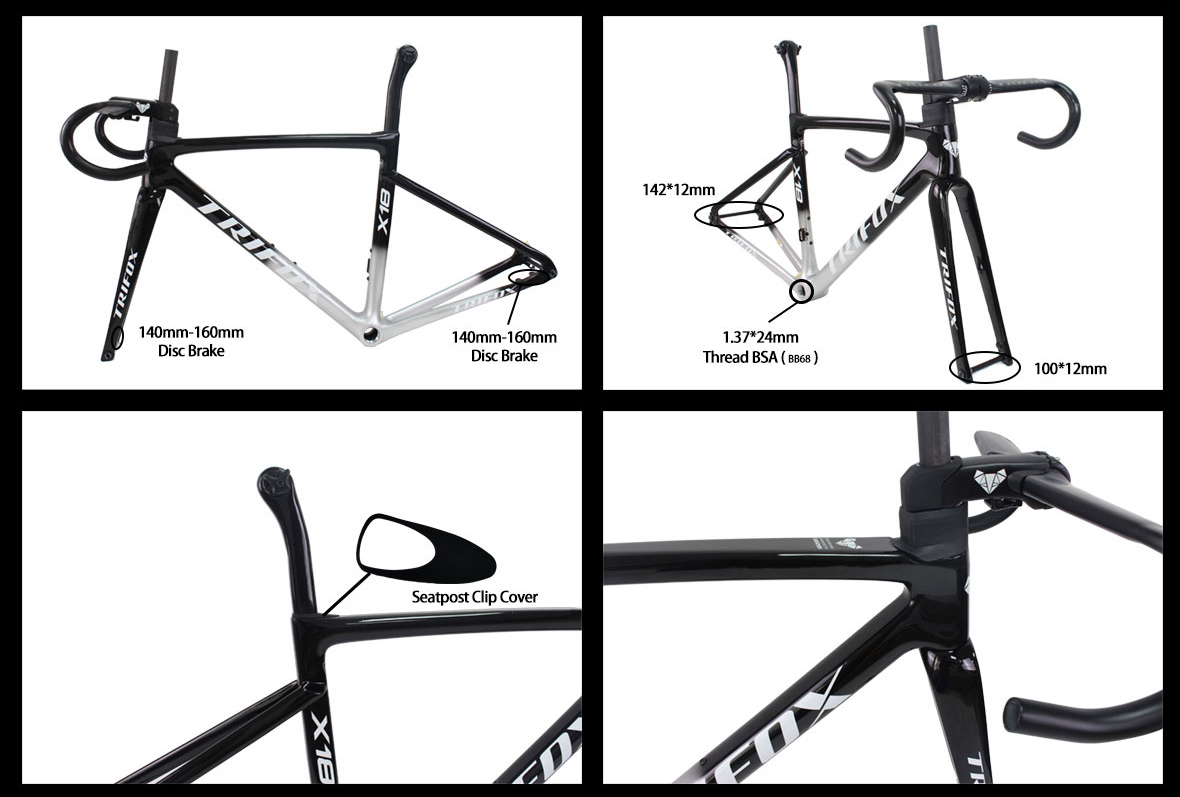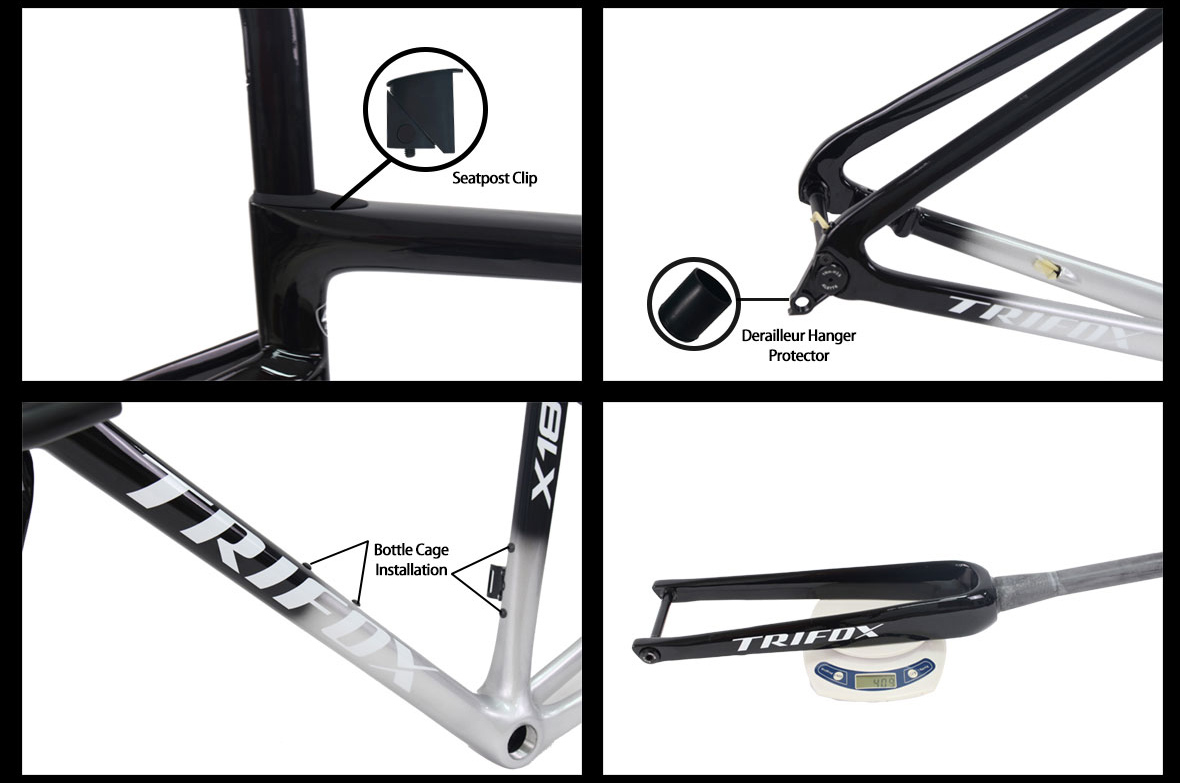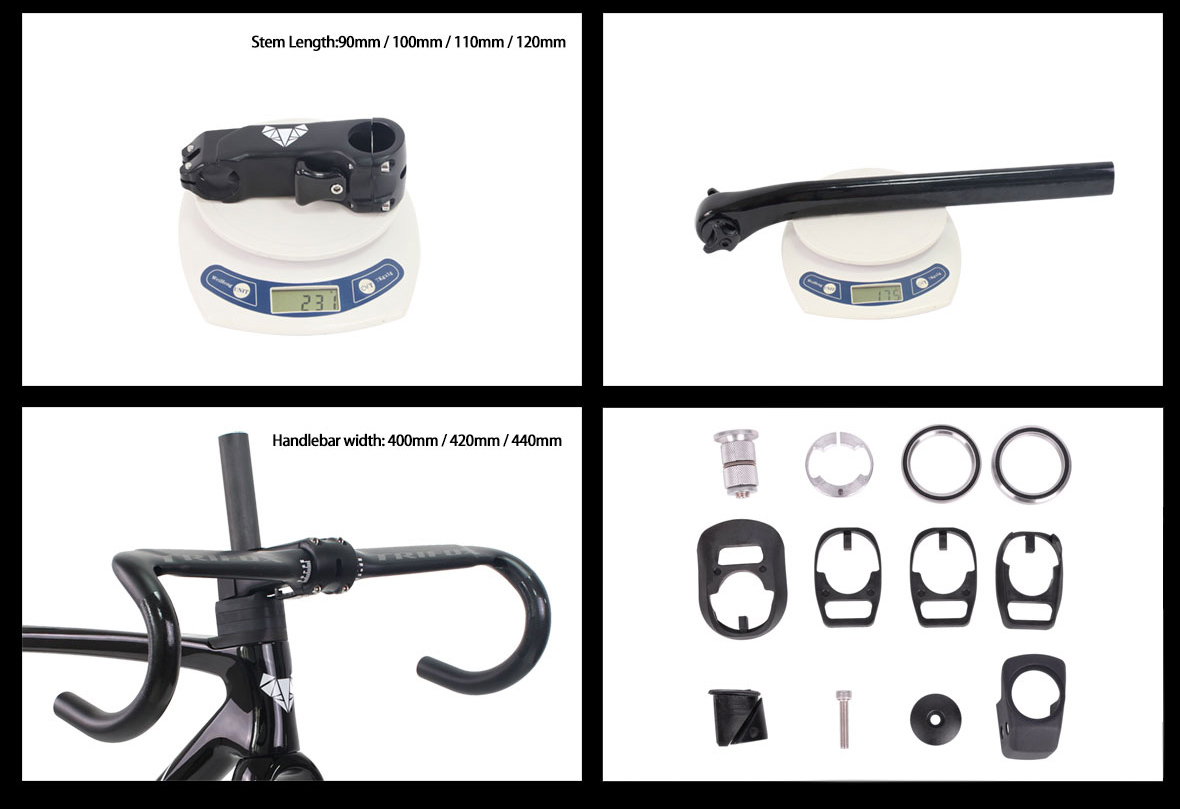 customers reviews ( 4 )
It took a while to arrive but it was worth it, very nice, perfect in finishes, sturdy but light, good communication with the company.I will buy more products and recommend to my friends.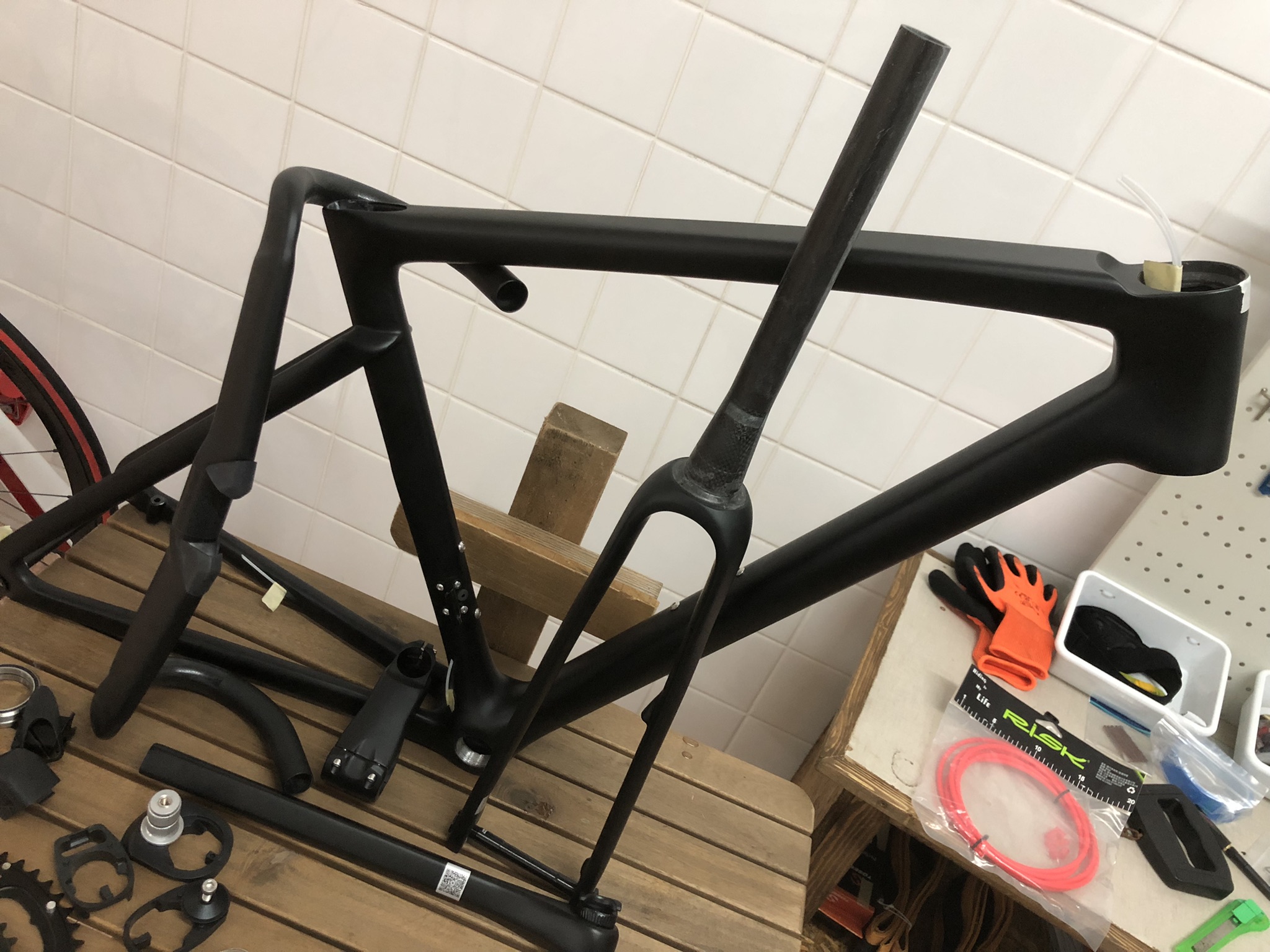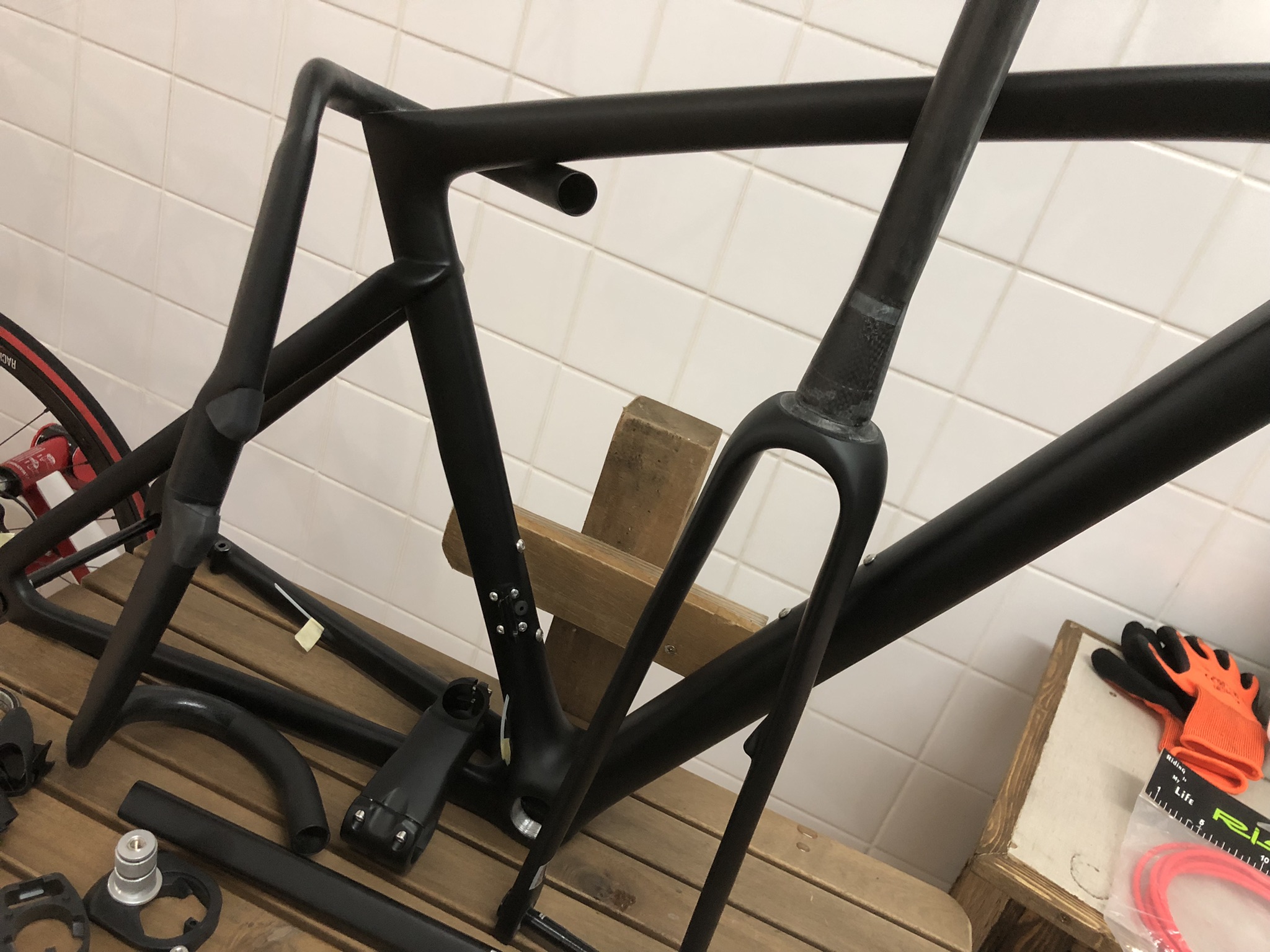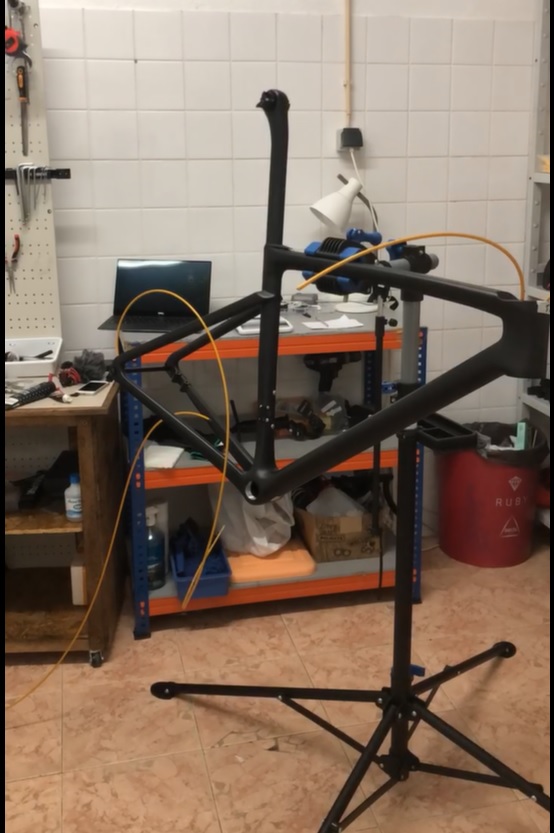 This bike built up with 30c tires rides amazingly well. It is fast, comfortable, climbs easily, gets power to the ground, and looks great. Exceeds my older lightweight rim brake climbing bike in every way.
I recived the package complete, the only thing i missed it is a diagram how to build the bike
Very satisfied with the X18 Frame, fork, seat post, and handle bars.Also frame shipped on time and was packaged very well. Received prompt responses from customer service before, during, and after the order.Help with tracking the shipment along the way.