Let's start counting from the beginning.

I had been thinking about buying a carbon full suspension frame for a couple of years and using the parts of my bike.

After many turns, looking at web pages, comments, photos, forums... I was between three different frames and in the end I decided on the Trifox for geometry, aesthetics and for all the benefits that it assumed since I had read a lot about it.

The day I decided to buy it, I contacted them and my first surprise was that the price had gone up. I thought it would be due to the global pandemic that was hitting us and that over time the price would drop, so I asked my contact. and he gave me the explanations of why he had raised the price and that it would not go down.

I bought it even thinking that it was very expensive, but over time I realized that my thinking was wrong and that its price is very good.

I had to wait since with the issue of the Denis pa the shipment was delayed a bit but as soon as it arrived and I opened the box I realized that I had made a master purchase.

The packaging was perfect with great care so that the painting did not suffer any damage during the long journey.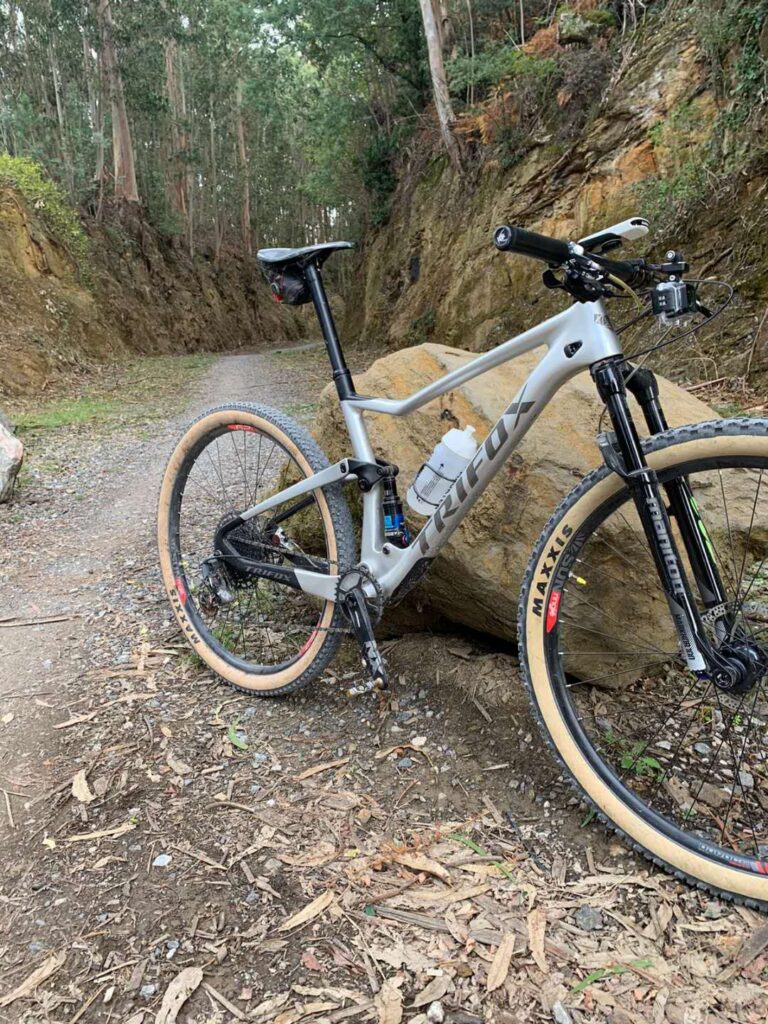 At first glance, the painting is very beautiful and the Titanium paint finish is spectacular; I had just fallen in love.

Next step, take it to the store to assemble it with all the parts from my other bike.

Here several unimportant problems arose, parts that did not work for me and some shock absorber bushings that did not work for my dt swiss xr carbon shock absorber, so in order not to delay any longer, I bought another shock absorber that would be worth a rock shox monarch that this one was worth perfectly.

Now if it was already mounted, greased and waiting for me to take it out to run, jump, go up, go down and everything that I ordered it to do.

First contact, a 20 km ride to get everything ready, saddle height, you tighten this screw that is loosening….

And the next day to give it cane.

Galdames greenway (50 km) flat to go full speed and see how fast and rigid the bike is.

And I am not disappointed at all, it is a missile, very fast and rigid, the suspension behaves very well, absorbing small irregularities in the terrain and it does not rock anything, it is very reactive when you hit it with acceleration, it does not cost anything and you can see that the force that you print to the pedals it goes directly to the wheels and that is due to the rigidity of the frame, here I began to notice the looks of other cyclists at my bike, if the frame is beautiful how are people not going to look at me.

Second contact 70 km through real mountains, uphill trails, downhills here we are going to really test it well on all types of terrain.

We start leaving the house at a leisurely pace, putting a thousand eyes on the entire bike to see if everything is still in order.

We spent a few kilometers on the bike path without any problem, everything is ok.

We reached kilometer 15 and reached the mountain.

First strong climb very bumpy and broken and the bike behaves as it has been rigid up to now, picking up all the bumps in the terrain and without losing an iota of rigidity and tracing all the way where you send it.

A slight turn of the handlebars and the bike stops there and goes without problems.

Climbing it behaves like a true thoroughbred, a world championship bike, a bike that if Niño Schurter rode it would win a world championship at least.

After a few straight kilometers going up we reached the top and now it's time to go down; And how can it be otherwise? I love going down with this bike and it's a bike that goes down almost better than it goes up.

You trace the curves wonderfully and it absorbs the bumps very well. Also, being a carbon frame, it is noticeable that the same frame also absorbs the bumps somewhat and that is due to the layers and shapes of the carbon that is very well studied so that it behaves like that. .

Here the little extra weight that the frame has is not a small inconvenience like going uphill but it is a plus and makes the bike faster and more rigid.

This is how I spend the next 25 km hallucinating with the behavior, benefits, rigidity, absorption, reactivity... of the frame.

Now I realize that the almost €1000 that I have paid for the frame is a few euros since a frame of this caliber but from any other renowned brand is worth double or more.

After a few months and a few kilometers of use, I still think the same thing and the only thing I think about is how it would behave if it were mounted with all the best that there is on the market, although later I tell myself that I already know that it would behave for 10 years now. I know that there is a UCI Wc Mtb team that competes with the frame under the name of another brand.

The only thing that I think the frame lacks a little is the weight, although I am sure that when they review the frame they will use better fibers to reduce the weight of the frame than if they lowered it by 200 grams. it would stay at an amazing weight.

As I said, after spending time with it, I totally recommend buying it and that each one assemble it with the parts they can (the best, the worst, new or second-hand) because it will surely be a very good bike since its frame behaves good in all situations (mountain, road, trails, ups, downs...)

Click Here to buy Trifox Carbon Fibre Full Suspension MTB Frame