Are you in search of a reliable and durable water bottle holder for cycling? Look no further than the Trifox Bike Water Bottle Holder CBC100. This carbon fiber bottle cage boasts a thick version style and is compatible with mountain bikes, road bikes, and gravel bikes.

In this comprehensive review, we will examine the top features of the Trifox Lightweight bottle cage CBC100, including its design, material, compatibility, weight, and sturdiness.

Design:

The CBC100 features a sleek, yet practical design with its thick version style. It measures 14 * 7.5cm / 5.5 * 3.0in (L * D), making it easy to slide in (or out) a water bottle while cycling. One of the key design features of the CBC100 is the inside of the cage, which is coated with a layer of rubber. This rubber layer helps to keep your water bottle securely in place while riding, preventing it from bouncing around or falling out completely.

Material:

This bottle cage is constructed from high-quality carbon fiber material - T800. This means that it is super lightweight (only 28g ± 2g) yet sturdy. The carbon fiber material ensures that the bottle cage remains corrosion-resistant and durable over time. It is also easy to clean, requiring just a simple wipe down after use to leave it looking as good as new.

Compatibility:

The Trifox Lightweight bottle cage CBC100 is compatible with a wide range of bike types, including mountain bikes, road bikes, and gravel bikes. This allows you to use it on your primary bike and any backups you may have. Moreover, it is also suitable for folding bikes.

Weight:

One of the major selling points of the Trifox CBC100 bottle cage is its weight. The cage is incredibly lightweight, which is beneficial for anyone who wishes to eliminate unnecessary weight from their bike or is looking to shave off some seconds from their cycling time. The cage weighs just 28g, making it one of the lightest bottle cages on the market.

Sturdiness:

Despite being a lightweight and sleek bottle cage, the Trifox CBC100 is also incredibly sturdy and durable. It can hold up to years of use and deformation, thanks to its carbon fiber material. You can confidently use this bottle cage on rough terrain without fear of damage or deformation. It does an excellent job of holding your water bottle in place, no matter how bumpy the ride.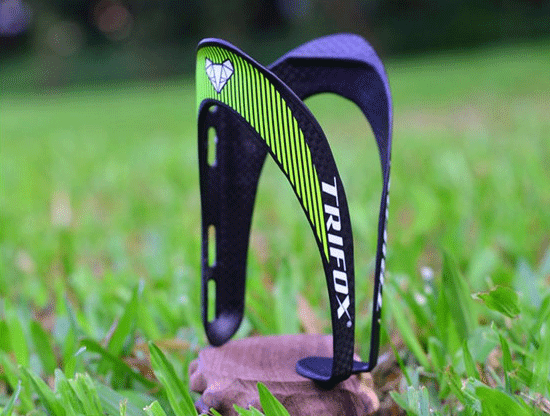 Conclusion:

The Trifox Bike Water Bottle Holder CBC100 is undoubtedly one of the top choices for anyone in search of a lightweight, durable, and flexible bottle cage. Its carbon fiber construction provides strength and durability while maintaining its lightweight feature. It is easy to install on most types of bikes, and its thick version design ensures that your water bottle stays in place. Overall, the Trifox CBC100 is an excellent investment for anyone looking to improve their cycling experience.