Are you a cyclist who is passionate about speed and efficiency? Do you dream of riding a bike with the lightest cheap road bike carbon frame? If you answered yes, then you need to check out the Trifox Carbon Fiber X16QR Road Bike Frame. This high-performance frame is designed to meet the needs of cyclists who crave speed and precision. In this blog post, we will take a closer look at the X16QR and its technical specifications.

The X16QR is constructed from high-quality T800 Full Carbon Fiber material, which is known for its strength, lightness, and vibration-absorbing properties. This lightweight carbon road bike frameset is perfect for serious cyclists who are seeking a competitive edge. The Frame O.L.D is Front: φ9x100 mm; Rear: φ10x130 mm, allowing for compatibility with a wide range of cycling components. Additionally, it accommodates up to 700c wheels, with tire widths ranging from 25mm, which enhances its maneuverability even further.

One of the key benefits of the X16QR is its minimal weight, which is just 840g for the frame with the fork. This feature enhances the speed and maneuverability of the bike, allowing cyclists to make quick directional changes with ease. Furthermore, the X16QR is V-brake compatible, with Quick Release Dropout, allowing for easy installation and removal of wheels and other components. The road bike frameset X16QR is perfect for beginners and advanced cyclists alike.

The X16QR has a sleek and modern design that is sure to turn heads wherever you ride. With its precise measurements, this lightweight carbon road bike frameset offers optimal performance and speed. It is designed to provide stability and efficiency, and you will notice the difference as soon as you hit the road.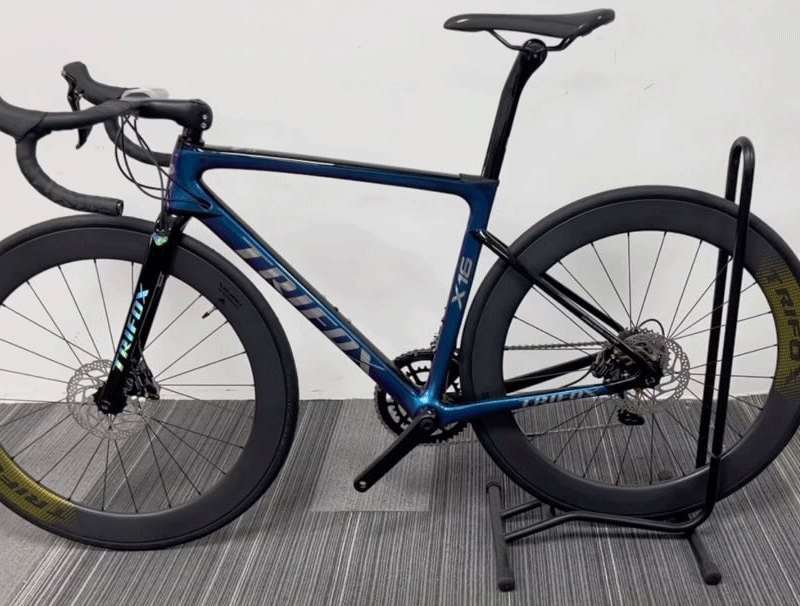 Conclusion:

The Trifox Carbon Fiber X16QR Road Bike Frame is the perfect choice for cyclists seeking speed, efficiency, and precision. With its lightweight construction, high-quality materials, and versatile compatibility, this road bike frame is suitable for riders of all levels.

The X16QR is designed to meet the needs of serious cyclists who crave an edge in competition and who want to improve their overall performance. If you are looking for a road bike frame that is lightweight, durable, and efficient, the X16QR is your ideal choice.