Mountain biking is a thrilling outdoor activity that is enjoyed by many. But, to ride smoothly and comfortably, you need the right equipment. One of the most critical components of your bike is the frame. A strong, lightweight, and sturdy frame can ensure a smooth and effortless ride.

In this blog post, we'll take a closer look at the MTB Carbon Frameset: 29er Full Internal Hardtail SDY21, an exceptional choice for serious mountain bikers.

1. T800 Carbon Fiber, Ultra-lightweight, UD Matte Finish

The SDY21 mountain bike frame features T800 carbon fiber, offering ultra-lightweight performance and a Red gradient, full glossy painting. This state-of-the-art material is known for its excellent strength-to-weight ratio, which provides a rigid and responsive ride. With an estimated weight of 1150 grams for a size medium, this frame is exceptionally light, making it perfect for competitive racing or just a fast and fun trail ride.

2. New Seatpost to prevent slipping

The SDY21 frame comes with a particle paint finish, which helps to prevent the seat tube from descending, ensuring a secure and stable ride. This means you can ride more confidently on steep inclines and declines without worrying about the seat shifting.

3. Streamlined Internal Cabling, simple and beautiful

The internal cable routing of the SDY21 frame simplifies the routing of cable housings and brake hoses, enabling a neat and tidy setup with ease. The process of feeding and securing the cables within the frame can be completed swiftly and efficiently.

4. Flexible tire compatibility

TRIFOX Hardtail Frame SDY21 is designed for swift performance, facilitating the use of 29er *2.4'' wheels as standard, enabling you to confidently navigate diverse terrains. The SDY21 frame takes on tough terrains and provides a smooth ride, even in challenging locations.

5. Replace multiple O.L.D styles

The SDY21 frame can accommodate various hub widths, including traditional quick-release systems with a 135mm O.L.D. or a modern thru-axle design with a wider 142mm O.L.D or 148mm BOOST, adapting to your cycling requirements. This flexibility extends to different derailleur hangers as well, ensuring a smooth and efficient gear shifting experience irrespective of your setup.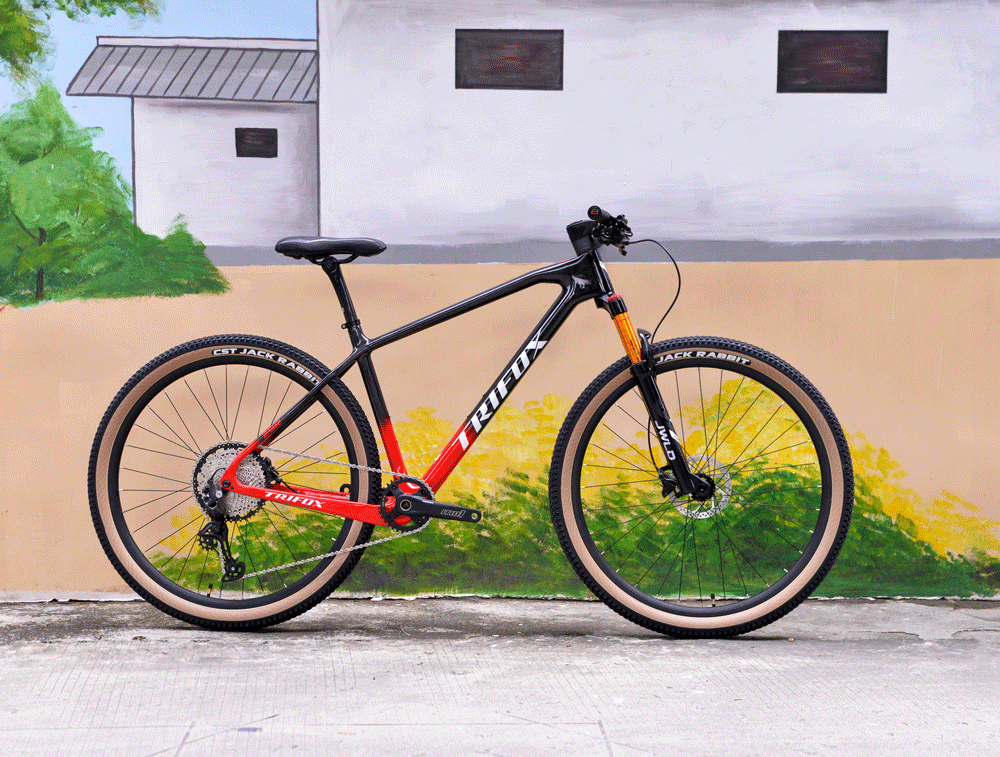 To sum it up, the MTB Carbon Frameset: 29er Full Internal Hardtail SDY21 provides an overall exceptional biking experience that is ideal for mountain bikers. With its lightweight and sturdy frame design coupled with advanced features such as a particle paint finish, streamlined internal cabling, flexible tire compatibility, and adaptability to various hub widths, this bike frame is an excellent choice for anyone who is serious about their mountain biking hobby.

So whether you're a casual rider, just starting out, or an experienced pro looking for a competitive edge, the SDY21 mountain bike frame is sure to offer years of trouble-free performance and an enjoyable mountain biking experience.